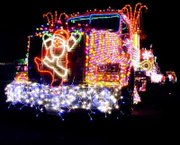 A bevy of activities are lined up for Dec. 2, the day of Sunnyside's highly anticipated Lighted Farm Implement Parade.
The fun begins at 8 a.m. at the Sunny Spot, with Breakfast with Santa. The breakfast will continue from 8 a.m. to 10 a.m. This event is a special treat for the kids, according to owners Garry and Sue Hook.
"I'm so excited," said Sue Hook. "We had it last year and it was a huge success. It was so much fun. We had so many little kids--we couldn't believe how many kids came."
Cost for the children's breakfast is $5, tax included, featuring pancakes, eggs, sausage and juice. And don't forget--pictures with Santa Claus are free.
The fun continues on to Dairy Fair, for cookie decorating with Mrs. Claus from 9:30 to 11:30 a.m.
At 4 p.m., Kiwanis will host a pancake feed at the Sunnyside Methodist Church at 9th Street and Edison Avenue.
"The food is great and it's a great way to warm yourself from the "Inside Out" before the parade," said Kiwanis Past President Tim Graff.
Kiwanis sponsored Sunnyside High School Key Club members will assist with the pancake feed. Cost is $5 for adults and $4 for children under 12. Monies raised will go to the activities fund, which supports events such as the Christmas shopping trip for the disabled, the senior citizen Thanksgiving dinner, high school scholarships and the annual Kids Day Parade in May, Graff said.
At about 6 p.m., it's time to head to Centennial Square downtown for carols and storytelling. Retired teacher Jim Galbraith will do the storytelling, reading 'T'was the Night Before Christmas," as well as a spiritual themed reading of his choice.
If you're a runner, take advantage of the Jingle Bell 1-mile run, made possible by the Boy Scouts of America, Yakima Valley Division.
"We had about 45 runners last year," said Frank Villanueva, District Executive. "We're expecting 60 to 75 people this year."
In keeping with the lighted parade theme, many of the runners wore lighted running outfits, which Villanueva is expecting and encouraging this year. He is encouraging runners to even wear bells if the spirit moves them.
"It's a festive run, a festive time," says Villanueva.
The run begins at Sixth Street and Custer Avenue and ends at Sunnyside High School. At the end of the race, there will be an awards ceremony and sports drinks will be provided to the runners.
Registration for the run is $15 and is due by Dec. 1. For more information, contact Villanueva at 453-4795.
Sunnyside's Lighted Farm Implement Parade begins at 6:30 p.m. at Sixth Street and Edison Avenue.