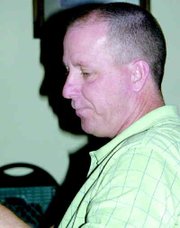 Greg Visser, vice president and manager of Sunnyside's Banner Bank, is volunteering his off-work time to help couples and singles find financial peace.
"We say we're using old fashioned grandma methods, but you get to keep your teeth," said Visser, who spoke to the Sunnyside Noon Rotary Club this past Monday.
Visser's volunteerism came about because of his expertise in the banking world. He said someone who isn't conversant with finances would find it difficult to coordinate the classes he is giving through his church.
The 13 lessons he offers are based on principles introduced by Dave Ramsey, a financial consultant who has developed basic programs for children as young as seven to programs for young teens, high school students and adults.
The 13-lesson programs are geared, Visser said, to reveal the mysteries of cash flow planning, buying bargains, dumping debt, understanding investments and insurance and a whole slew of other topics that can lead spenders from the brink of bankruptcy to a secure financial footing.
According to a video Visser showed to the Rotarians Monday, the average household is $38,000 in debt, 70 percent live from paycheck to paycheck and only 55 percent worry about their debts.
"And that should tell us something," Dave Ramsey said via the video, as a picture of a donkey pulled off his feet by an overloaded cart flashed on the screen.
That photo, Ramsey indicated, was a good illustration of Americans who find themselves overloaded with debt.
The program, called Financial Peace University, encourages using cash instead of credit and, in fact, strives to lead those who participate in the program to cut up and throw away their credit cards.
Visser compared the program's goals to the work he does at Banner Bank when a couple comes in for a loan to buy a home, but doesn't qualify. Visser said he can show the potential home owners things they can do to meet the qualifications so that, when they return, they are eligible for a loan. "It may take them six months, but it can be done," said Visser.
In the classes Visser has been teaching through the Sunnyside Christian Reformed Church, he leads groups through the 13-lesson Ramsey program, using software, a text, audio CDs and other materials to show them how to get on a firm financial footing and stay there.
"We use an envelope system and cash," said Visser, who said that, while credit cards are a no-no, debit cards are A-ok.
"My wife and I use the envelope system. It's surprising how many envelopes we have, about 15, for sports, clothing, entertainment, food...just like grandma used to do. We pay cash and we had to laugh when we went to Costco and they couldn't even count it. They were so used to credit cards."
Financial Peace University employs the buddy system, a group setting in which the lessons are given and where support, sharing and accountability are expected and received. Accountability is carried out by the small groups even after the program has been presented, Visser said.
He pointed out that statistics show that while Japanese save 18 percent of their salaries or wages, Americans are at a negative 2.2 percent.
Visser volunteers his time to give the programs, which cost $90 per person for the materials, if the program is presented through a church. The regular cost can be twice as much, if the materials are not ordered through a church.
Gina Tyhuis and her husband, Rob, are presenting a mini-program at Sunnyside Christian Reformed Church for seventh and eighth graders. A more advanced form of Financial Peace University is being given to high school students at Sunnyside Christian High School, and Visser is in the middle of a second session with singles.
After presenting the basics of the program to Rotarians yesterday, Visser invited anyone interested to call him at work at 837-8008 or at his home at 839-2144.