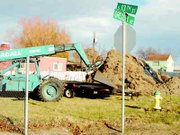 October was one of the Sunnyside Planning Department's busiest months of the year as the city processed permits for construction valued at $3.2 million.
More than half of the total-nearly $1.8 million-was for new single family home construction.
Aho Construction of Vancouver, Wa., accounted for $1.2 million of the new home valuation for five houses that were issued permits in October.
The five homes have an average value of approximately $240,000.
One of the month's more valuable permitted projects was a four-plex at 1316 E. Gregory Ave., valued at $363,000.
In keeping the with the arrival of fall and winter weather, the Sunnyside Planning Department issued 14 permits during October for homeowners re-roofing their houses.
Another 15 building permits were issued for door landing repairs for multi-family housing at 402 W. Maple Ave.
During October, city officials conducted 658 inspections and issued 71 permits.
Altogether, the city of Sunnyside's coffers received nearly $51,000 in permit fees during October.
Of that amount, $16,336 was for fees related to single-family home construction, and $18,616 was for fees related to constructing buildings to house three or four families.
Sunnyside also collected nearly $2,300 in planning fees in October related to new single-family housing.