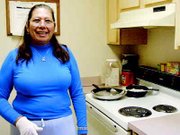 She smoothes her hand slowly over the plastic pages in a big book as she displays a lifetime invested in education. Sally (Hernandez) Witt's book holds the many certificates she has earned through continuing education to learn how to help others.
Witt said she always knew she wanted to work with children. Just into her teen years, she volunteered at the Farm Workers Co-op in Toppenish. By the time she was 15, she was earning a stipend from the co-op.
"But I didn't do it for the pay," she said. Rather, she indicated, it was the first step on a path that would lead her into on-the-job training at the Toppenish/Wapato Headstart.
It wasn't until she was 19 that Witt was able to spend nine months in Pullman to work her way through the G.E.D. program at Washington State University.
Her G.E.D. graduation certificate holds a place of honor in her big book. "That represents 12 years of high school," she said proudly.
Over the years she added a Child Development Associate certificate, a Family Service Advocate certificate from Heritage University and a Certified Nursing Assistant certificate, earned at a nursing school in Grandview, to her book. Her book also registers all the early childhood development classes she took at Yakima Valley Community College and Central Washington University.
For 30 years she taught 4 and 5 year olds at both EPIC and the Washington State Migrant Council programs. Mingled in that work history is health care she provided in Sunnyside at two nursing homes, a doctor's office and the hospital.
"I'm a giving person. I give and give and give," she said simply.
Witt is a woman who likes diversity, as her job history shows. Several years ago she backed away from the classroom where she had prepared little tots for kindergarten for those 30 years.
"When I started having grandkids I wanted to stop working with kids so I could enjoy my grandkids. Whatever patience I had left, I wanted for the little old people and my grandkids," said Witt.
The "little old people" Witt is caring for now are those she assists in her role as an in-home caregiver through Home Care Services in Sunnyside.
Whatever job she has tackled, Witt has carried with her a flashing, constant smile and a rapid fire tongue from which spills conversation, in both English and Spanish, that leaps from one topic to another in a dizzying pace.
This lady, now in her early 50s, started life in Port Isabel, Texas, where she learned about the sea, from which her father pulled their livelihood, through the giant turtles, octopus, living white and pink coral and baby sea horses he brought home for her.
The only work she did from birth to age 14 was helping her beloved grandparents, with whom she spent most of her time, either with housework and cooking or shucking the oysters her grandpa processed as a sideline to his full-time job.
The shrimp her father netted gave them a comfortable lifestyle, Witt said, until a bomb hidden in his boat blew up, injuring him and sending them on a two-year migrant path when he recovered.
"We lived in Brownsville and then we moved to West Texas where we worked in the cotton and then to Arizona where it was carrots, lettuce and cabbage," said Witt.
When they followed the trail to the asparagus fields in Toppenish in 1964, the family put down roots.
"We stayed here and 1965 was my last year working in the fields," said Witt.
For 18 years Witt was a single parent, raising her two sons, who now have, she said, productive lives.
"I had friends who died before they were 50, smoking, drinking and their kids were low-lifes. They didn't just ruin their own lives, but their kids' lives, and I didn't want to do that to my kids," said Witt. "I worked. I raised them. I think I did pretty well. They're good boys."
About two years ago, Witt received another certificate to add to her book...she married Ron Witt.
"He's a good guy, a good husband, a good grandpa. I couldn't be luckier," she said.
"When we got married, he told me not to put too much decorating into the rental house because he was going to buy me a house some day. It's only been a year and a half and look!" Witt said, as she sat at the round kitchen table that is a focal point in the Witts' newly purchased home on Bagley Drive.
Witt said she intends to continue to care for her clients until Ron retires.
"He says I won't have to work then, and I'll have to do something because I can't just sit here, so I think I'll go back to college and get that degree I always wanted. I already have 100 credits," she said.