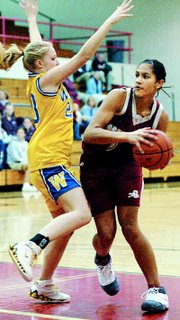 The Grandview High School girls basketball team opened the 2006-07 season last night at the Sunnyside jamboree, taking on the Wapato Wolves and the Sunnyside Christian Knights.
In last night's format, each team's JV would play two five- minute quarters and then the varsity would play another two quarters.
Grandview's JV turned the game over to its varsity trailing the Wolves 14-9.
First game jitters were evident as the Grandview girls tried to find their defense.
"We weren't playing defense like we can," Tarah Troutman, coach of the Grandview girls, said.
On offense, the Lady 'Hounds hit three-points shots, jumpers and fast break buckets but Troutman said there were too many missed lay-ins.
"We weren't getting good angles from our guards," she said. "We weren't feeding to our posts."
Grandview's varsity outscored Wapato 12-10 in the third period and 8-3 in the fourth for a come-from-behind 29-27 win.
"We held them to three points in the fourth quarter but our defense is not where it should be," Troutman added. "That's what we're going to be working on this week."
Anna George came off the bench to score seven points for the 'Hounds and she grabbed four rebounds. Danica Rodriguez added five points and Cristina Meza contributed three points.
Grandview pulled down 28 rebounds in the second half of play, with 10 of them offensive rebounds. Grandview shot 2-for-7 from the free throw line while Wapato was 2-for-4.
In the second game of the night, Grandview's varsity outscored Sunnyside Christian 8-6 in the third period, but was outscored 9-8 in the fourth to post a 29-29 tie with the Lady Knights.
"This was a better game," Troutman said. "We were able to get into our game. SCHS is athletic so it was nice to get that perspective. We still have a lot of work to do."
Kinzi Poteet had four points and 10 rebounds for the Lady Hounds. Meza added four points for Grandview and Rodriguez, Christine Penwell, George and Raissa Licano each had two points in the game for Grandview.
Troutman said three things her team learned from the jamboree is to become more consistent on defense, take care of the ball and to move more on offense.
She said that's the purpose of a jamboree, to show a team what they need to work on.
Grandview will start its regular season this Saturday, Dec. 2, with a non-league match-up with Ki-Be at 6 p.m. in Grandview.