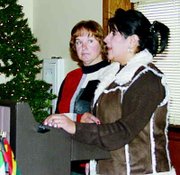 At their meeting held this past Monday, Sunnyside Rotarians prepared for the information they'll receive to adopt local families in need during the Christmas season.
Northwest Community Action Center Readiness to Learn Case Manager Suzi Carpino and Sunnyside School District's Sonia McDaniel, who works with home liaisons in the district, gave a presentation to Rotarians, explaining what to expect for those who adopt families.
Both women work within the school district and are aware of families in need.
The list of families needing to be adopted will be available this Wednesday at Rotary President Greg Visser's office at Banner Bank.
Each sheet containing the name of the family will also include gender and sizes of the children, as well as the children's special interests.
Each family that was selected to be adopted was not chosen by request, but rather observation, Carpino said.
McDaniel expressed concern that names of those who aren't adopted by Rotarians be returned to she and Carpino, so they can be adopted by someone else.
She also advised that if a family has nine children, each of the children has to be provided for.
McDaniel also suggested that if someone does draw the name of a large family that they share supporting that family with another group.
According to Visser, Rotarians have been adopting families in need for about six years. The club doesn't adopt families as a whole, rather it's individuals within the club. Last year, Rotarians adopted about 25 families.
Those who do adopt families are encouraged to bring the gifts to the Dec. 18 Rotary meeting, so that Carpino and her team can get them out to the families.