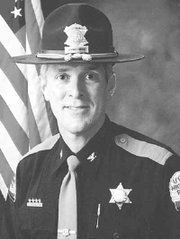 The newest Superintendent of Utah State's Highway Patrol is Colonel D. Lance Davenport, a 1977 graduate of Grandview High School.
He is the son of L. Jerome and Glenna (Bagley) Davenport of Republic, Wa. His mother was a 1956 graduate of Sunnyside High School. Davenport resided in Sunnyside and Grandview in the 1970's, where his parents owned a market and grape farm.
Colonel Davenport and his wife Julie have five children and are awaiting their first grandchild. Davenport resides in Syracuse, Utah, just north of Salt Lake City, where he is busy in his new responsibilities with the Utah State Patrol, as well as being Bishop in the LDS Church.