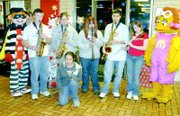 The Grandview High School fight song was playing loudly in the Sunnyside McDonald's last night as the Grandview music booster club took over the restaurant.
Called a McTake-Over, Grandview students, band members and booster club members worked for three hours Tuesday night to raise money for the Grandview music booster club.
The money will be used to help students pay for travel expenses when they go to concerts or for instrument repair.
Debi Foster, a member of the Grandview music booster club, said the club is also hoping to be able to set up a scholarship fund for music students. She also said the club would like to acquire more instruments for the middle and high school bands, as well as new uniforms for both.
"We want to help all music programs in the school district," Foster said.
She mentioned the Marimba band at Harriet Thompson Elementary School and the jazz, marching and Marachi bands at the high school.
The Grandview music booster club is less than a year old and members of the club held a McTake-Over this past summer. During a three-hour shift, McDonald's gives 15 percent of the sales to the club. Last summer, the club made approximately $189.
"If we can make $300 this time it would be great," Foster said just as last night's event got underway.
She said it will take about a month before they will know how much they made.
"It's a lot of fun," she added.