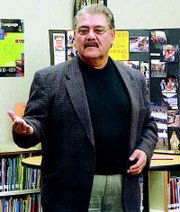 From its history in Southern California in the 1970s to its presence on Lower Yakima Valley streets today, the Sunnyside community learned a lot about gangs last night.
The information, provided by Alex Santillanes, executive director for Yakima Valley Barrios Unidos, was presented to about 30 people who attended an English language Gangs 101 awareness class held last night in the Sierra Vista Middle School library. A Spanish-language session followed afterwards.
Santillanes spoke of how gangs were furthered by rivalries in jail and the heroin drug trade in the 1970s.
"They went from marijuana and then on to harder drugs," he said.
One way in which prisons furthered gangs is when convicts promised protection to new prisoners in exchange for furthering gang activities once they were released.
While today's prison system cracks down on prisoners' gang-related activities, Santillanes said the justice system is "broke".
He noted, "They go away for six years after killing someone and then come out proud of what they've done."
Santillanes described how even elementary-aged school children admire older siblings or relatives who have committed gang activities or have served jail time.
And it's in the home, he added, that changes need to happen to discourage gang activities.
Christina Pelayo, a community coordinator for Barrios Unidos, provided a personal example of how gang activity in her family and neighborhood eventually claimed the life of her 13-year-old daughter.
"I've learned there are things I could have done differently," Pelayo wept. "We beat ourselves up over it."
At the same time Pelayo said the lack of response by police and social services in the Pasco area where she lived at the time made her feel she was alone in trying to keep her daughter from gang activities.
"I got tired. I gave up," she said.
Those in the audience then formed into small groups to discuss ideas for addressing gang issues in Sunnyside.
In one group, Sunnyside Free Methodist Pastor Mike Henry suggested extra-curricular activities such as youth groups.
Another group, led by Sunnyside City Council member Carol Stone, suggested that the entire community must work together as one, not in individual cliques.
The call for community was echoed by Charlie Diaz, an assistant principal at Sierra Vista.
"The reality is we do have gang members within our building. It's a constant battle," said Diaz, who praised the school district's cooperative relationship with the police department. "What can we do as a community?"
During last night's session, Barrios Unidos did provide some ideas to help parents and community members oppose gangs.
One key is discouraging gang symbols and dress when children are young. That includes wearing all one color, baggy pants and bandannas.
There are also symbols that indicate gang activity, such as LVL (Little Valley Locos) and BLS.
Santillanes said if parents see gang symbols on their students pee-chees or other papers then they need to intervene.
If you see graffiti the best thing to do is to call the police so they can photograph and catalog the symbols, according to School Resource Officer Sam Ramos. Then remove it right away so it does not attract other gang symbols, he said.
One outcome of last night's meeting was a desire for a beginning, to get started both at home and in the community to battle gang activities.
The Gang 101 meeting last night was sponsored by the Sunnyside School District and Sunnyside's Promise in cooperation with Barrios Unidos.
A non-profit organization under the auspices of the Diocese of Yakima, Barrios Unidos aims to reach out to the community to prevent and intervene in gang activity.