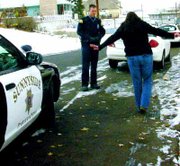 Ten law enforcement agencies throughout Yakima County will conduct 571 extra patrol hours in December to comb the streets and roads for drivers driving under the influence.
The DUI patrols begin Friday, Dec. 1, and will run through Jan. 2, 2007.
Sunnyside Police Department is one of the 10 agencies that will be on the prowl during the Drive Hammered-Get Nailed campaign, which is a joint effort between the Washington Traffic Safety Commission, statewide law enforcement and the Yakima County DUI and Traffic Safety Task Force.
The thrust of the program is to rid the roads of impaired drivers during the holiday season.
And that's what the Sunnyside officers will be watching out for, as they sign up for the overtime hours that are being made available to enforce the DUI laws.
When a driver is pulled over by a police officer during the Drive Hammered-Get Nailed campaign, he or she shouldn't be surprised to be asked to take a field sobriety test, which can determine balance and coordination, or a Portable Breath Test (PBT), which measures whether a person is under the influence of alcohol.
"Even one drink can impair your judgment, but a .08 PBT would pretty much guarantee a driver would be arrested for DUI," said Edica Esqueda of the Washington Traffic Safety Commission, who works out of the Sunnyside Police Department and is helping coordinate the December campaign.
Drunk driving is one of the most frequently committed violent crimes in America. In Washington state it is the single largest contributing factor in fatal collisions.
Between 2000 and 2005 there were 1,456 lives lost on Washington roadways as a result of drinking drivers.
In spite of information about the dangers of driving while drunk, the figures are not decreasing. The number of deaths in Washington ranged from 214 in the year 2004 to a high of 268 last year.
Law officers in Sunnyside, Moxee, Selah, Tieton, Toppenish, Union Gap, Wapato, Yakima and in the Yakima Sheriff's Office and Washington State Patrol want to change that picture this holiday season.
In the year 2000, 37,673 drivers in Washington were charged with driving while under the influence. In 2001, 36,582 were charged. In 2002, 41,114, in 2003 43,950 were charged and in 2004 another 43,683 were charged with DUI. In 2005 those charged with DUI numbered 41,972.
The average blood alcohol level of people arrested was about 1.4, almost twice the legal limit of .08.
National alcohol driving fatalities are also rising.
According to the National Highway Traffic Safety Administration, 15,045 people were killed in the United States in 2004 in crashes involving drinking drivers. During 2005, 15,172 Americans died in crashes involving drinking drivers, representing 36 percent of the 42,636 people that were killed in all traffic crashes.
Those figures prompted the International Association of Chiefs of Police to recently release nationwide the "Impaired Driving Guidebook: Three Keys to Renewed Focus and Success". The guidebook is designed to encourage a renewed effort by every law enforcement agency to work vigorously toward the elimination of impaired driving.
The 19th annual Impaired Driver Conference will be held Dec. 12-13 in conjunction with the DUI emphasis patrols. Law enforcement, health, legal and safety professionals will gather at the Sea-Tac Marriott to deal with the DUI problem.
One of the features of this year's conference will be a presentation by Jennifer Green of the Maricopa County, Arizona Attorney's Office on "The CSI Effect". Her contribution will detail how DUI trials are being impacted by the public's "schooling" of crime scene investigations by popular television programming.