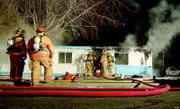 An early evening fire caused $55,000 in damages to a Parkland Drive home in Sunnyside.
Firefighters were called to the home at 131 Parkland Drive at about 7 p.m. last night.
According to Sunnyside Fire Chief Aaron Markham, the home was an older, double-wide manufactured home.
"When we arrived on scene, there was fire already coming out of the front door and window on the northeast corner of the building.
"We were initially told by bystanders that they thought there were people trapped in the home," Markham said. Firefighters used a thermal imaging camera from outside to search for trapped victims, as well as an inside search.
Firefighters later found out the homeowners were at church at the time of the fire.
Markham said it appears as though the source of the fire was the fact that too many appliances were plugged into one extension cord, which was plugged into another extension cord.
""We're deeming it as the overheating of an electrical extension cord not rated high enough for all of the devices plugged into it."
Markham said that the call came in just as several firefighters had gathered at the station; every Wednesday evening the group trains for their job. Because of that, there were several firefighters on scene and, says Markham, "We had it knocked down in real short order."
Because of the quick response, the fire didn't have time to spread to the southern portion of the home. Markham said the family may be able to salvage some of their belongings.
Tim Graff/Daily Sun News
Sunnyside firefighters, gathered for training exercises last night, responded quickly to a fire at 131 Parkland Drive, which caused $55,000 in damages.