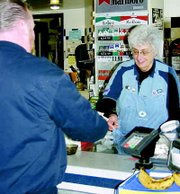 GRANDVIEW - "Mornin' Shirley!"
It's a greeting she hears every day and more often than not, it's cheery.
Shirley Baze has been with the convenience store and gas station Ameristar in Grandview since it opened, working day shift and tending to customer needs.
"I enjoy my job and the people that come in here," says Baze. "We're really lucky in that a lot of our customers are regulars that we see every day.
Baze enjoys being an active member of the workforce.
"I work because I enjoy working," she says. "It keeps your mind active when you get older."
There are two things that she particularly enjoys in her role as convenience store clerk.
"You get to know the regular customers by name and they get to know you by name. It's really kind of nice."
She also enjoys the fact that when she sees a regular customer coming, she knows what they'll need and can get it ready for them, like those who come in for a daily shot of espresso.
Baze maintains her upbeat and friendly demeanor, no matter who she encounters.
"You do get grumpy people every once in a while. You just smile at 'em and hope it makes them a little less grumpy."
One memory that stands out for Baze is when a regular, elderly customer tried to tip her by giving her $20 instead of $1.
"He tried his darndest to give me that money. I knew he didn't have a lot of money and it was really nice, but we can't take tips."
In her off-time, Baze's passion is horse racing. Though she doesn't train horses anymore, she still enjoys her animals tremendously.
Baze will continue to work as long as it falls in with her philosophy that work keeps the mind "active and alert."