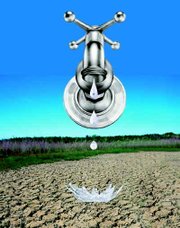 by John Fannin, Corey Russell and Lynda Jo Gross
Evening temperatures are dipping into the 30s and the days grow ever shorter.
They are sure signs that winter is not that far away.
But meteorologists from around the country are already sounding the alarm that an El Niño could bring warmer temperatures and less moisture to the Pacific Northwest, possibly providing less water for farmers next summer.
It's not the first time local farmers have heard the bell toll for El Niño.
A natural, cyclical warming of Pacific Ocean waters, an El Niño last impacted the area during 2004-05.
That led to less snowpack in the mountains and reduced water flows in the Yakima River. The result for local farmers is that irrigation districts started the watering year a little late. One district, the Roza Irrigation District, had to purchase water from the Sunnyside Valley Irrigation District (SVID) to keep water flowing.
The 2004-05 El Niño was moderate. The most recent serious El Niño occurred over 1997-98 and led to drought conditions.
Indications of an El Niño have already been documented for this year, but weather watchers aren't sure what its impact will be.
"It's too soon too tell," says John Mittelstadt, a meteorologist with the National Weather Service's Pendleton, Ore. office. "The odds are tilted toward a warmer winter and we're more likely to have a drier winter. We'll just have to wait and see."
Ken Reeves, director of forecast operations for AccuWeather.com, offers a bit more dire prediction.
"Of potentially great impact will be the effects that a drier winter will have on areas in the region (the Northwest) that rely on waters that come from the melting snowpack," Reeves notes. "With the possibility of less snow this winter, there could be less water available next year."
'A wait-and-see game'
Farmers really don't know about the water situation until they get into spring, observes Arnold Martin, a Sunnyside area farmer.
"You look at the forecast," Martin says. "There's no point in worrying about it now. It's a wait-and-see game."
Martin says most farmers in the area have been through drought situations before and have already made adjustments if it happens again.
Possible alternatives for row-crop farmers, Martin notes, would be leaving some land idle or growing dry-land wheat.
"I don't know if we can do anything about it," Naron Berg, another farmer in Sunnyside, said of possible El Niño drought conditions. "If it happens it happens."
Berg says he has been through four or five drought years in his time and said it seemed to him the water always manages to get stretched out to the farmers.
It's the farmers who grow permanent crops that really have to worry, Berg says. These are the orchard and vineyard owners who aren't able to change their crops every year.
He adds that the sharing of water between the Roza and Sunnyside Valley irrigation districts has helped.
Another help is the advent of drip irrigation, notes Don Schramm, assistant operations manager for SVID.
"In a water shortage the pie is only so big," he says. "When you put less demand on that pie it makes more water available to others."
"It's a waiting game," says Tom Monroe, operations manager for the Roza Irrigation District, which is a junior water rights holder.
"There's really nothing we can do except monitor the weather during winter," Monroe says. "We can't plan for anything until the Bureau of Reclamation puts out the first projections of what's in store in March."
Monroe adds that Roza does have contingency plans in the event of a low water supply.
"If there's not adequate river flow in March, we wait to turn on the water," he says. Other options, he notes, include shutting down for a few weeks during watering season.
Possible crop impacts
As a senior water rights holder, SVID has a leg up on others in the area.
"We're always prepared for a potential water shortage here," Schramm says. "We're fortunate in that even when water is rationed we've still had roughly 77 to 80 percent of our water."
Water shortages do put farmers in a situation where they have to manage the water better, he admits, but "it's not harsh enough where anybody has to go without (water)."
Still, dry summers take a toll on the crops, notes Willard Mears, executive manager of the Segal Ranch hop farm near Grandview.
"It would really hurt the (hops) crop if the reservoirs were drained and don't come back full," observes Mears. "If there's a dry winter and a hot summer, we'd really be in trouble because it negatively impacts production."
Corn is most affected by dry years because of the amount of water it takes to grow the crop, according to Berg.
He also echoed what Martin said previously about how most farmers are prepared.
"Most people have been through it a few times," he said. "They know what to expect."
Grape expectations during dry weather conditions
"Wine grapes don't need too much water," says Roger Bates, a grape grower for Sunnyside-based Apex Winery. "Like any vine, they search for it (water). It's pretty amazing what they can do, even during drought years."
In his 25 years experience, Bates says he's gone through four or five droughts and the crops have come out just fine.
"I've never had a problem with it," he notes. "We're still able to get through it."
Mike Miller, a wine and table grape grower, says wine grapes are pretty easy on water and Concords take a little more. That's one of the reason he grows grapes, he says.
At the same time, he notes that a serious drought could be devastating for fruit tree growers.
"I've done pretty much all I can do," he said of preparing for dry years. Most of Miller's acreage is watered with an irrigated drip system.
"We just hope the carry-over will be sufficient and we get enough precipitation in one form or another," he said.
'We're at the mercy of mother nature'
While an El Niño is brewing, it's too soon to tell just how it will impact Lower Valley farmers next summer.
What is known, however, is that the on-and-off snowpack spigot-and the ensuing drought cycle-isn't going away anytime soon.
"We're basically at the mercy of mother nature every year," Schramm explains. "Even with a full storage reservoir we can only meet 40 percent of demand (from reserves on hand)."
It's all a matter of math, says Schramm.
"In this basin, about three-and-a-half million acre feet of water is generated annually, on average," he notes. "The trouble is, some years there's only one-and-a-half million acre feet and some years there's five-and-a-half million acre feet."
The valley's irrigation water demand is over two million acre feet each year.
"The problem, he says, is compounded by the lack of storage capacity.
Schramm notes the area's water storage capacity is limited to one million acre feet of water.
In other words, if the area received a bumper crop of water-say five million acre feet-only one million could be held back for storage.
"If you have one really good (water) year you can't store it all," Schramm says.
He adds that if the valley had more water storage capacity, then the abundance of water from one year could be apportioned for drier years.
Mike Concienne, senior regional manager in Grandview for Western Growing, National Grape Co-op, agrees that storage capacity is needed. Especially in light of dry years such as 2006-07 could be.
"It's another reminder that we need an alternative water source," Concienne says. "Whether it's storage or Black Rock (reservoir)."