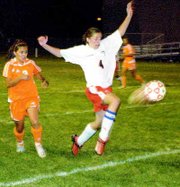 "Are you ready to do this?!" Teresa Ramos asked her Sunnyside soccer teammates repeatedly during a cheer minutes before last night's match with Davis.
Oh, the girls were ready all right, turning a season-opening 5-0 loss to the Pirates on its ear with a tough home loss in a non-league rematch last night.
After surrendering a goal just two minutes into the match, the Lady Grizzlies' defense toughened as goal keeper Stephanie Garza put a lid on the net.
On offense, 3A Sunnyside controlled the tempo against 4A Davis, finding an equalizer in the 19th minute when Alejandra Benitez booted a high, booming kick in front of the Davis net, which Sasha Castro knocked home.
The score remained tied 1-1 through the rest of the half, though Sunnyside could have easily been up 3-1.
One first half shot attempt by the Lady Grizzlies required a diving stop by the Davis keeper. Another was deflected off the top bar of the goal and bounced back to the ground away from the goal.
Sunnyside broke through again just 10 minutes into the second half when freshman Joanna Mendoza collected a pass from Michelle Galvan and knocked it home to put the Lady Grizzlies up 2-1.
The lead lasted until the 77th minute, just three minutes before the match's conclusion, when Davis scored off a penalty with a header.
The 2-2 tie forced a pair of five minute overtimes in which both teams went scoreless.
That brought the match down to a battle of shootout kicks, with Davis prevailing for the win.
"I picked my five players that I felt comfortable with, but they just had a tough time keeping the ball down when they shot," said Sunnyside Coach Kathy Jolliff.
"The girls played really well," Jolliff added. "We took a strong stand to do a better job in the second part of our season and I think we made a big improvement since we played Davis last month in a 5-0 loss."
Not only is the Sunnyside team's improvement showing on the field, but opposing coaches and players are taking note as well.
"After the game the Davis coach said we didn't even look or play like the same team (from the season opener)," Jolliff said. "His players said they didn't remember us being so big. I guess that's because we beat them to the ball and out hustled them."
Sunnyside (0-7, 1-10) returns to league play this Saturday when they travel to Kamiakin.