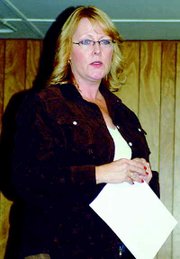 OUTLOOK - About 20 members of the Outlook Grange were on hand Saturday evening for a workshop to help them reduce their chances of being a victim of identity theft.
The one-hour presentation by Yakima County Sheriff's Detective Carrie Tribble also provided guidance on what a person should do if they become a victim of identity theft.
Grange member Dorothy Cullen said she wanted the group to have Tribble visit because "I know several people who have had it happen to them, it's kind of scary".
Tribble, a 17-year veteran of the Sheriff's office, said identity theft cases in the county are "running rampant," noting that 85 percent of the cases she sees are related to either identity theft or financial fraud.
Tribble covers the Lower Valley area for the Sheriff's office, and cautioned that identity thieves obtain information which they fraudulently use to obtain cash, clothing or other items.
Since offenders will often sift through the garbage in an attempt to gain addresses or credit information, Tribble advised Grange members to shred any of the pre-approved credit card applications they receive in the mail.
Speaking of the mail, Tribble warned against leaving mail in the mailbox overnight. She said identity thieves have been known to steal mail in an attempt to retrieve checks or other personal information. She suggested that residents use post office boxes as a more secure option for receiving mail.
Tribble also told Grange members that stores, banks and check cashing institutions need to do a better job of checking for identity whenever would-be thieves attempt to cash checks or use a credit card.
"The bad thing is that nine out of 10 times the clerks don't check for identity," she said.
If a person does become an identity theft victim, Tribble strongly advised keeping an organized file of all the paperwork related to their case. In addition, she encouraged persistence in making sure that a store or bank doesn't try to make a victim pay for the cash or items obtained by thieves.
"Remember, you are the victim and they are the ones who cashed that check or accepted that credit card," she said.
A victims' first steps should be to contact the fraud department of each of the three major credit bureaus. That's 800-525-6285 for Equifax, 888-Experian for Experian and 800-680-7289 for Transunion.
Other immediate steps are to close accounts that have been tampered with or opened fraudulently and file a report with local police or county sheriff.
Tribble said one of the most frustrating experiences in her profession is tracking down an identity thief, then seeing them receive only a few days in jail because the crime is only a Class C felony. She says her focus is on tallying as many incidents as possible on each thief so that they come under federal scrutiny. Tribble said a thief that participated in robbing post office boxes in Sunnyside recently had 140 counts against her. That resulted in the federal government stepping in and sending her to prison for five years on each of the counts.
"She'll be gone for awhile," Tribble smiled.