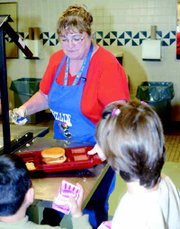 Entering his third year as the food service director for the Sunnyside School District, Bob Toomer is continuing to feed more and more students.
"We're feeding 200 more students a day here at the high school than we were last year," Toomer said. "We had 800 students eat lunch today. We're serving 350 students breakfast every day but will hit 450 to 500 students in a couple of months."
Breakfast at the schools in the Sunnyside School District is free to all students. Students at the high school and middle schools are offered six choices of meals for breakfast. Milk and water is available to drink and the students can have all the fruits they want.
For lunch, the high school and middle school students have 25 meal choices.
Students can choose from the deli line, where there are sandwiches offered. The school bakes the bread daily for the sandwiches.
There is also a pizza line, where students can satisfy their munchies with a slice of their favorite pie.
The American Grill line gives students the choice of hamburgers, chicken sandwiches or hotdogs.
There is also a salad line, where a salad of the day is featured, as well as a Mexican line which offers tacos and nachos. Students can also choose from the traditional line, where more traditional school lunch food is served.
Also offered is an Oriental line, where rice bowls with meat and vegetables are served.
The smorgasbord includes a snack line, too, available to students where chips, water and juices can be bought.
Fruits and vegetables are also served during lunch and the students can have as much as they want. Toomer said the school district provides at least eight different fruits and vegetables for the students each day.
"Anything that grows in the valley," Toomer said.
He said he only uses fresh fruits and vegetables while they are available. Once they run out, he will use fruits and vegetables from frozen storage.
The elementary schools are run a little different. Grades pre-school to second have their choices picked for them and they must take all of it. For these young students, fruits and vegetables are limited usually to such items as apple slices, carrots or cucumber slices.
Students in the third to fifth grades are given one entree per day. These students, however, are given choices of fruits and vegetables and are able to eat as much as they want.
The high school and middle schools have three lunch times during the day to feed their students and the elementary schools feed each grade level at separate times.
"The encouraging thing is the kids eat what they take," Toomer said. "There is hardly any garbage."
He said 75 percent of students are on the free lunch program and these are the kids who need it most.
"For some of these kids, the breakfast and lunch they eat here are the only real meals they get a day," he added.
With so many choices in the middle schools and high school, one might think the kids would choose pizza every day. But that's not the case.
Toomer said the lines really balance out. He said by having all these choices the students spread things out on their own.
"As long as you keep the kids happy and provide the choices they want," Toomer said the school lunch program will be successful.