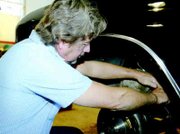 For most people who have spent much time in the valley over the past 35 years, chances are, they've had a break down or two with their automobiles.
Chances are they've had Tim Lyczewski, a mechanic in Sunnyside, work on their vehicle.
Lyczewksi had been turning wrenches for a living for the past 35 years. For the last 27 of those years, he's owned and operated Tim's Auto Repair.
Born and raised in the Sunnyside area, Lyczewski took an opportunity presented to him in 1970 and has made the most of it ever since.
He had been tinkering around with automobiles and motorcycles for most of his life so it seemed a natural fit when he enrolled at the Grandview Auto Mechanic School. He had a new wife and child and wanted to have something to offer prospective employers.
"I figured I needed some kind of training," he said. "When a prospective employer asked me what I could do for them I wanted to have an answer."
It took two years to complete the course and when Lyczewski finished in 1972, he went to work for Valley Ford in Yakima as a mechanic.
After getting his feet wet in Yakima, Lyczewski briefly worked in Lodi, Calif. for an independent garage but found California living not to his liking. He was soon back in Prosser working at a service station.
After working for a Dodge dealer in Toppenish, he opened his own business, Tim's Mobile service station.
"I wanted to be my own boss and do things my own way," he explained.
Lyczewski owned and operated Tim's Mobile for three years until he decided to go to work for someone else. He spent some time at Sunnyside Radiator repairing radiators.
"It was OK," he said of working with radiators. "I didn't stay there very long. I went to work over at the Ford Garage."
Soon he was working for Pontiac in Grandview until he ran into an old instructor from his automotive school, who owned Grandview Automotive.
Around this time computer diagnostics were making their way into the automotive world and Lyczewski's former instructor wasn't trained in that. Lyczewski, who had some experience in computer diagnostics, went to work with his former instructor.
In 1980 he decided it was time to try it on his own again.
He opened Tim's Auto Repair and spent nine years in the same location. In 1989 he moved his business to another location in Sunnyside and stayed there for 16 years until moving to 712 Unit C on Yakima Valley Hwy.
He's spent the last 27 years building a reputation for himself. His philosophy is to 'get it right the first time.'
"I prefer to take a little more time to get it right," he said.
Rebuilding an engine, as an example, Lyczewski said it's not only important to get the engine running correctly, he believes in replacing all the hoses, spark plugs and wires. He said it's a waste to rebuild an engine if it's going to burn up down the road because of bad hoses.
"I like to see my customers come back but not for the same problem," he explained.
He said it is getting harder to keep up with the technical data for new cars.
"Most manufacturers are looking to keep the dealerships fixing the cars," he said.
But, he said, he keeps up with the changes so he can fix the cars people bring him.
He enjoys the work he does and especially working for himself. He can be more selective now. If there is a job he feel he can't do or someone else can do better, he can turn down the job.
The hours aren't bad either.
"Working in an one-man shop you can talk to the customer and discuss the problem," he said.
In a large shop Lyczewski said he would just be handed a work order and then left to figure it out.
"I like working one-on-one with the customer to fix the problem," he added.
It's a philosophy that's worked. He said he still has customers he's known when he had his first service station back in 1975.