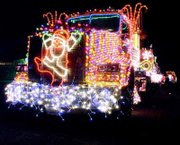 Know a Sunnyside-area farmer-either retired or still working-who is active in the community?
If so, he or she could be the grand marshal for Sunnyside's 18th annual Lighted Farm Implement Parade set for Saturday, Dec. 2.
Members of the parade committee held an organizational meeting this past Tuesday evening to lay the groundwork for planning this year's event.
One of the goals for this year, noted committee chair Jeff Norem, is to finalize the selection of a parade grand marshal a month in advance. "We need to contact the person earlier so we can commit them," he said.
Nominations in writing will be accepted until Nov. 2 and can be mailed to the Farm Implement Parade Committee in care of the Sunnyside Chamber of Commerce at P.O. Box 360, Sunnyside, Wa., 98944.
Norem said he would like to see the grand marshal selected and made official three weeks before the parade.
Other minor changes for this year's parade are plans to sell Christmas ornaments that reflect a tractor theme and commemorative t-shirts. There are also plans to again give away free t-shirts, as well.
The second annual Jingle Bell Run in association with the parade will also return this year, the committee noted, with participants encouraged to wear Christmas-themed costumes.
The committee continues to seek sponsorships for the parade. To date, Sunnyside Community Hospital ($2,500) and the Port of Sunnyside ($1,000) have confirmed contributions. The committee also noted there is $3,000 for advertising that will be paid from the city of Sunnyside's hotel/motel tax funds.
The committee is scheduled to meet again Monday, Oct. 23, at 5:30 p.m. in the Port of Sunnyside building at 520 S. Seventh Street in Sunnyside.