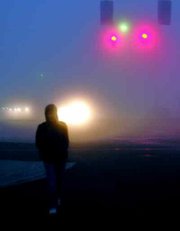 Students in Sunnyside got a jump start on National School Bus Safety Week, which starts today and runs through Oct. 20, thanks to David Taylor, transportation director for the Sunnyside School District.
Last week all kids riding school buses were indoctrinated into all aspects of bus safety, with special emphasis on exiting buses quickly and safely in an emergency.
Taylor set up surprise drills, starting on Monday, Oct. 9, at Chief Kamiakin Elementary School and ending on Wednesday, Oct. 11, with Sierra Vista, the new middle school on Washout Road. A massive drill was held with 20 buses clustered at the high school on Tuesday, and there appeared to be no hitches in the exiting procedures.
"The drivers discussed with the students where all the emergency exit doors are on the buses. You always want to use the front door, but, in the event they can't, we want to provide training on all the other doors," said Taylor.
Five basic rules
kids should obey
Although there are about 20 rules for school bus safety, Taylor said he's asking the drivers to concentrate this week on five basic rules:
"Stay in the seat when the bus is moving, don't cross the road until the driver nods and still watch for cars, keep heads and arms inside the windows, keep feet and backpacks out of the aisles and no pushing or shoving. That's the five basic rules," said Taylor.
Last Friday, instruction was aimed at the bus drivers, not the students, as all the drivers gathered for a district-wide mandated in-service training session.
"Our driver-trainer Bob Ohlde, who is also our shop supervisor, conducts this workshop, which re-emphasizes state laws and any new items that came along from the Office of the Superintendent of Public Instruction," said Taylor, who said he sat in to learn about anything new coming down the pike that might have been revealed to Ohlde in the two days of summer training he took in Yakima.
Taylor also spent an hour Friday touching bases with his drivers about things that will be going on in the area, such as harvesting of hops and apples, that could put more traffic on the roads they'll be driving.
Taylor pointed out that all motorists should be aware that school buses run from 6:20 in the morning to after dark at 6 p.m. every day, due to the district's after-school programs, 21st Century and Gear-Up.
"And we have three or four field trips a day, six days a week, and a game can see our buses on the road coming home after midnight," said Taylor. "Sometimes we have as many as seven or eight field trips in a day."
The district employs 36 transportation employees as bus drivers, substitute drivers and mechanics. "All have bus driver's licenses," said Taylor.
Taylor's department runs 23 bus routes daily to and from school. He said the district will be adding three buses to pick up and drop off pre-school students at their homes as soon as the three new, 32-passenger buses that have been ordered arrive.
"These for pre-schoolers will have seat belts," said Taylor.
The buses became necessary when the school district added classes for pre-schoolers at all four of the district's K-5 schools, Chief Kamiakin, Outlook, Pioneer and Washington. Preschoolers at Washington and Chief Kamiakin will ride the same bus, Taylor said, which is why only three of the 32-passenger buses will be required.
He said the district will be ordering two or maybe three of the larger, 84-passenger Thomas buses, each of which costs $100,000.
"We'll probably have them for use by spring," said Taylor.
The pre-schoolers in the Sunnyside School District will be the focus for a mini-workshop of the same type Taylor has given in the past for two Sunnyside churches that have pre-school programs.
"I've gone to the classes at the churches to talk to the kids and I always tell them, "If you remember only one thing I've said, I want you to remember to look at that driver before you cross the road and don't cross until you see the driver nod and then watch out for cars."
Taylor will be carrying that message to the district's pre-schoolers as soon as the new buses arrive, and he will also give them a bus ride so he can teach them how to behave on the bus and how to react in an emergency.