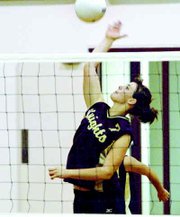 The 1B Sunnyside Christian High School volleyball team made quick work of visiting 1A Wahluke last night with a 3-0 sweep in non-league action.
Sunnyside Christian prevailed 25-18, 25-15, 25-20 over the visiting Warriors.
The convincing win saw a return to consistency and serving dominance for the Lady Knights, noted Coach Tammy Bangs.
"We seemed to be going through a horrible slump, the girls did not seem to adapt well," Bangs observed. "We went back to our original rotation and things just clicked for the girls."
The contest was never in doubt, though things did get interesting in game three.
"We started making errors in that game," Bangs said. "We had to pick it back up."
Bangs noted that the number of strong serving performances for SCHS-such as 10-for-10 serving by Emma Newhouse and Tori VanWingerden's 14-of-15 day behind the service line-were steady throughout the match.
"It was spread out through all of the matches," Bangs noted. "Our serving was back on after we had a horrible time with our serving last week."
Also contributing to the victory were the Lady Knights' Andrea Schutt and Melanie VanWingerden with seven and six kills, respectively. Teammate Abby Bangs was a perfect nine-for-nine from the service line.
Sunnyside Christian (5-3, 7-3) travels to Yakima tonight to play LaSalle in another non-league match.