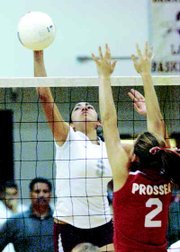 GRANDVIEW - The Grandview High School volleyball team continued its victory tour through the CWAC South last night, sweeping Prosser at home 3-0.
But the visiting Mustangs managed to throw a scare into the all-world Lady 'Hounds.
After Grandview prevailed 25-18 in game one, Prosser mounted a 23-21 advantage in game two and appeared ready to hand the Lady Greyhounds their first game loss in league play.
Grandview (10-0, 11-0) rallied to tie the game, then prevailed 27-25 in a contest that stretched into extra points to decide the outcome.
The Lady Greyhounds then dispatched Prosser for good with a convincing 25-11 win in the third and final game.
"Prosser played well and we didn't play very well," Grandview Coach John La Fever said of his team's struggles in game two. "We have to tighten up our passing and play a little tougher. We need to come to play. Prosser played harder than we did."
Of Grandview's ability to turn the match around in game three's convincing win, La Fever added, "We did a better job of dictating the pace of play. During the second game Prosser kind of dictated the pace of play."
Grandview was paced by Kealey Johnston, who recorded team-highs in kills (11), digs (7) and passes (9). "She's a very good all-around player," La Fever said of Johnston.
Teammates Sydney Mottice and Katie Veloz added 15 and 12 service points, respectively.
Grandview plays its final home match of the season this Thursday against league foe Toppenish.