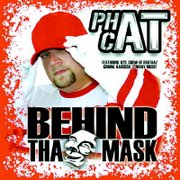 Gospel rap artist PHAT CAT, or as he is otherwise known as Sunnyside's own Chad Turley, has a burning desire to spread God's word.
With messages of love, hope, forgiveness, redemption and salvation, Turley is at it again. Next Saturday, Oct. 27, he'll release his second full-length album. Turley's newest CD is entitled "Behind Tha Mask."
The new album, featuring 16 selections - plus a bonus track entitled "Road Less Traveled," will be available at what Turley is calling a CD Release Concert. Admission to the Saturday, Oct. 27, Sunnyside concert, to be staged downtown at Navarro's Community Center, is just $5. The CD's, fresh from being pressed, will be made available to Sunnyside concert-goers at a special price of $10.
"That's pretty cheap for a 17-track album," Turley said.
In addition to hearing PHAT CAT perform some of his newly released songs, Sunnyside concert-goers will also be treated to the likes of Soul the Interrogator, a Gospel rapper from Seattle, and Mario V, a pop rock/contemporary vocalist from Yakima. Also scheduled to take the stage at the Oct. 27 concert are Portland, Ore. contemporary Christian singer Terra Nyce and Sam Perez, a Christian rock artist and producer.
Turley said the doors to the downtown Sunnyside center will be opened to the public at 7 p.m., with the concert to start approximately half an hour later.
Born and raised in Sunnyside, CAT (as Turley is called by those in the know) grew up in a loving Christian household. But falling to the pressures of life, he said he ended up taking some really dark roads. His self-centered party lifestyle, said Turley, caused a lot of hardship and emptiness.
Fortunately, at the age of 25, Turley said he was delivered from his addictions and felt a calling from God to use his talents to make an impact and difference in the lives of many.
Using hip hop as a ministry tool for the last four years, Turley has performed at all types of events and venues, including churches, youth groups, schools, festivals and even prisons. He has shared the stage with many performers, including two Dove Award nominees.
PHAT CAT released his debut album, "Cloudy Dreams," in May 2004 with the help of a local producer and Smooth of K2S. Recorded at New Era Studioz, the album is considered by many as a solid debut effort with 13 songs dealing with such issues as addiction, abuse and suicide.
Now with the 2006 release of his second full-length album, Turley is hoping it hits the mark in the hip-hop community. He notes that the newest CD also features guest appearances by such artists as K2S, CROW, Karruso, pop rock sensation TR Griffin and Terryl Greg.
Turley, too, has recently completed two music videos with Downright Digital Productions that are scheduled to be on a DVD release sometime in 2007.
Saying he has decided to turn his negative experiences into positive messages for today's youth, Turley describes his music as not only entertainment for Christians, but as a way to plant seeds for the rest of the world.