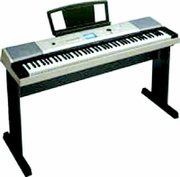 Sunnyside School District is among 12 districts that will soon bring computer-assisted music composition instruction into their classrooms.
Training and equipment are being supplied to 17 regional music teachers from the 12 Yakima Valley districts. ESD 105 will hold an ArtFusion program on Thursday, Oct. 26, through Saturday, Oct. 28 at its conference center at 33 South Second Avenue in Yakima.
The three-day training will be taught by Mike Klinger of the Synthesis Musical Instrument Digital Interface Workshop of Carson. Teachers will learn how to input simple sheet music with chords and lyrics, a four-part instrumental score, music transposing, percussion composition and advanced sheet music layout techniques.
The teachers participating in the training will receive nearly $1,000 in equipment for their music rooms.
The equipment will include five items:
-a Yamaha portable grand keyboard containing 76 keys, 489 instrument sounds, a 267-song database and a keyboard stand.
-a Sibelius 4 software for writing, playing, printing and publishing music, which can be used in the teacher's existing classroom computer.
-Band in a Box music accompaniment software (also for the teacher's computer).
-Music Ace Maestro music curriculum software (for elementary teachers only).
-Auralia ear training music software (for secondary teachers only).
In Sunnyside, Scott Waywell, who teaches music at Sierra Vista Middle School, has been chosen to take part in the training and receive equipment.
"I'm already using something similar to Sibelius in the classroom," said Waywell. "For me, it will be just getting used to a new program."
"I'll share (the software) with a colleague or use it on the second computer here," Waywell said.
He teaches six classes at Sierra Vista Middle School, and estimates that he involves about 130 students in music.
The workshop this week is the first offered by ESD 105. Teachers are expected to be interacting with the equipment this Thursday afternoon or Friday during the workshop.
"We provided these teachers with training on the use of the state's classroom-based arts assessment standards this year and last year. Now we're supporting them with the materials they need to further their expertise and provide better student opportunities," said Aurelio Garcia, ESD 105 regional arts educator coordinator.
Garcia said the equipment will provide a way by which students can become fully intellectually and emotionally engaged through hands-on, kinesthetic and auditory participation.
"I think the ability to compose their own music and share it with others will have a great impact on a student's motivation and creative expression," said Garcia.
He said he hopes the initial training and equipment will lead to this first group of teachers serving as leaders who will share their new expertise with other instructors in the area.
Garcia said he would like to add audio files of student-created compositions to the ArtFusion web site http://artfusion.us.
Waywell said his music students in Sunnyside have not yet composed their own music. He said he foresees using the new equipment to record the efforts of students, so they can hear what they have created.
The participating school teachers in this week's workshop, who previously completed training in the state's training, are from Cle Elum-Roslyn, East Valley, Grandview, Granger, Selah, Thorp, Toppenish, Union Gap, West Valley and Yakima.
Funding for each teacher's keyboard and software came from a three-year arts grant of $1.04 million that ESD 105 received from the U.S. Department of Education last year.