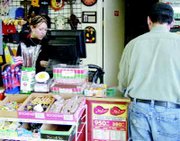 Years ago in Jalisco, Mexico, a woman cleaned other people's houses, washed other people's clothes and worked in restaurants to support her family of five, but all the time she had a plan.
And that plan was to make a better future for her children.
As part of the plan, two of her daughters came to Sunnyside with their father, where they worked in the fields and warehouses and even went to Alaska to work in a fish cannery. Two years later, eight years ago, Maria Cruz brought the last of her children, Aldo Morales Cruz and Perla Morales, to Sunnyside. The children were 16 and 17; Perla was the baby of the family.
They carried the plan with them, as Perla enrolled at Sunnyside High School, where she graduated in 2002, and Aldo tucked two years of community college under his belt.
The plan took Perla and her mother north to the canneries, where they worked 12-hour days, seven days a week, except during crab season, when they worked 18 hours a day.
"It was hard work. The owners are mostly Japanese and they want you to work hard and fast all the time. They're very strict," Perla said.
"But the good thing is they pay for everything-the food, the plane, the room-so you take home all the paychecks," said Perla, noting that at Dutch Harbor in the Bering Sea there is nowhere to spend money and certainly no time left over at the end of a 12-hour work day to do anything but sleep. The pay is $7.30 an hour, but overtime can bump it up above $10, Perla said. And it all adds up.
The hard work was part of their plan. And so were the jobs Aldo was doing in Sunnyside while they toiled in Alaska.
"He worked in stores like this to learn about business and money management," said Perla, gesturing at the market the family now owns on the corner of Edison Avenue and 16th Street.
When Fred and Helen Kim indicated a desire to sell that store, Aldo, who was working for them at the time, discussed it with his mother and three sisters. Together, with the savings they had accumulated over the years, they made an investment.
"While we were working, we were just saving the money for something, but we didn't know what. We wanted a business, but we didn't know what kind. When Aldo told us about the store, we decided we were going to buy it," said Perla.
They became the owners of AMC Market in June 2005. (AMC are Aldo's initials.)
Outside the sign still proclaims the store Edison Street Market, but changing that sign doesn't have top priority while they're still working on cash flow.
Perla and her sisters, Arcelia and Mirella, work at the store every day. Aldo, 25, is the manager, but he is usually behind the wheel of a truck away from home most of the time, driving for a company or, one might say, driving toward a more financially secure future.
Maria continues to work at the cannery in Alaska, flying up twice a year to work the two fishing seasons. The first, which starts in January, lasts two and a half months. The second begins in June and ends in mid-October. She is currently working her fifth season there, and her children look forward to her arrival home soon.
"She's a hard worker and she likes to work all the time," said Perla. "She likes to stay active. She doesn't want to stay home, but, when she is here, she helps us out a lot in the store."
Since they have taken over, the Morales-Cruz family has given the market a Mexican flavor, adding Mexican candies, some specialty groceries, decorative items and telephone cards that are mostly purchased by customers calling their people in Mexico, Salvador or Central America.
They offer conveniences such as money orders, FAX service and next-day delivery of money wired to other countries.
Once a day, on school days, they get a rush of business at 10:40 a.m. when high school students dash in for the burritos, chicken strips and other fast foods that have been cooked especially for them just minutes before they arrive.
"We need three people here when they're here," said Perla.
Perla's father stops by the store to help out, but he and another sister have not invested in the business.
Perla said the family's purpose in buying the market was "to invest money and have a better life, not to be working in the fields and warehouses, to have a better future."
Now that Maria's plan has come to fruition, is there any other goal the family has in mind?
"Well, if this store does well, we may buy another one," Perla speculated.