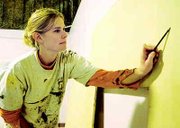 A cast of 29 actors have been hard at work for over two months, preparing for opening night in mid-November when the Over the Hill Senior Theatricals group debuts its production of "Cinderella."
Opening night for the Rodgers & Hammerstein play will be Saturday, Nov. 11, at the Sunnyside High School auditorium. The curtain is scheduled to rise at 7 p.m.
An additional evening performance is slated for Friday, Nov. 17, at 7 p.m. To accommodate the matinee crowd, the curtain will rise on three different afternoon performances, set for Sunday, Nov. 12, Saturday, Nov. 18, and Sunday, Nov. 19. All three afternoon productions will start at 2 p.m. Tickets, priced at $8, are now available at the Daily Sun News in Sunnyside, Safeway in Grandview and Elfers-Lyon Pharmacy in Prosser.
Directed by Julie Trumble and co-produced by Donna Sartin and Lloyd Hazzard, the play features Sunnyside's own Charlene Maling in the lead role of Cinderella. Her Prince Charming during the five-production run will be Paul Brooks. Sunnyside's Dan and Karen Santos have landed the roles of king and queen, while Grandview's Betty Minnich will play the part of the fairy godmother. Three other leading roles have gone to Sunnyside's Sheila Hazzard as the stepmother, and Joyce Taylor and Linda Martin as the stepsisters. More than 20 other members of Over the Hill Senior Theatricals also make up the Cinderella cast.
Over the Hill Senior Theatricals, made up of veteran actors 50 years-plus, has been performing in the Yakima Valley since 1989.