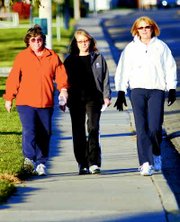 GRANDVIEW - Mothers in Grandview have found a unique way to stay in touch with God and reassured while their children are at school: they've formed a Moms In Touch group whose sole purpose is to pray for students and leaders of Grandview High School.
The concept of the program isn't new, it's part of the Moms in Touch International program.
There are different groups for different schools, and, over the years, co-leader Carolyn Larson has been a part of many of them. As her children grew and went to different schools, she'd switch to the Moms in Touch group for that school.
"As of right now, there is a group for McClure School and Harriet Thompson," she said.
The program is very structured, very positive and very respectful of mothers' time, said co-leader Kathy Iwami.
The women meet at noon on Mondays at Iwami's home and the prayer group only meets for one hour.
The group begins by focusing on an attribute of God. They then give thanks. Then they begin to pray for the schools, teachers and students (whatever need might be addressed that day). They end the meeting by praying for their individual children as they go through their week at school.
Larson said that answers to prayer that she's seen include safety in schools, as well as good teachers in both the Grandview and Sunnyside districts who were placed "at the right time and at the right place."
Mom Sheri Boboth too has gone from group to group as her kids went through the school system. One of her biggest answers to prayer during her involvement has been the ease of her worries.
"Kids have so many choices and worry is a real burden for moms," she said. "That's one of the greatest things. As I was continuing to meet with the group of moms each week, I found I was committing those worries (to God)."
Boboth's Moms in Touch group prays routinely for teachers and students at Sunnyside High School.
"By the end of the year, everyone at the school has been prayed for at least once."
Boboth's prayer-mates meet at Ace Hardware store Wednesday mornings and walk the pathway during their hour of prayer, passing the high school as they go.
Moms pray on a variety of subjects during the week, depending on activities, etc. Sometimes it be safety in sports, or prom or homecoming week.
The group isn't based on a particular denomination, which is why it's so structured. Regardless of one's faith, there is only one Bible, and the structure follows the Bible.
Groups are needed for schools in both Sunnyside and Grandview. For more information, call Boboth at 837-3459.
After all, as Boboth puts it, "If we believe God is a universal powerful God, it gives us great benefit to talk to that universal powerful God about our kids and schools."