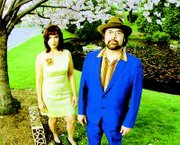 Velvety Seattle rain with a hint of Texas sunshine is how I think of Two Loons for Tea's third album, Nine Lucid Dreams.
Swiss-born Jonathan Kochmer and Sarah Scott of San Francisco met in Seattle 16 years ago and formed Two Loons for Tea. Self-proclaimed improvisational songwriters, Scott and Kochmer have toured with Fiona Apple, King Crimson and had "musical tea" with Herbie Hancock.
The duo earned a slot on the 2003 Grammy ballot, which generated them indie buzz.
At first, "Nine Lucid Dreams" did not draw me in. I had to listen to it three times before I felt like I was able to feel a connection to the music. After I got into it, there was only one track I really did not like.
Listening to the track "Sunset Room," I felt like dressing up in tights and twirling ribbons gracefully through the air in my cubicle. Music shouldn't make anybody want to do that.
"Nine Lucid Dreams" is a smooth blend of pop, jazz, trip hop and progressive rock and sounds good, but, at times, I found it lacked emotion.
That aside, Two Loons may be onto something with their track "Dixie Land." A little more on the jazz side than I usually listen to, the track is a mellow combination of pop and jazz. It made me remember sipping Pimms and lemonade on a hot sultry England day, in a lush garden overlooking a golf course.
Music should transcend a person to a feeling, time, place or a memory.
"Dixie Land" achieved that. It was like that song was made for that particular moment in my life, not just a generic melody that would be played on the radio for 80 straight days, 20 times a day and then forgotten.
"Tragically Hip" is a track that would be the perfect soundtrack for sipping coffee at a Starbucks on a rainy day. The simplicity of the song showcases how talented the duo is.
Their music reminds me of the novel by Herman Melville, Moby Dick, a little hard to get into, but once you dig in, it is a really good story.
When Two Loons for Tea gets it right, the music is spectacular. They have a sound uniquely their own. It may take more than one listen of "Nine Lucid Dreams" to appreciate their eclectic blend of music, but it is worth it.
Two Loons for Tea will be playing at Neumos in Seattle on Tuesday Sept. 12. The time is not yet set, so for more information, contact Meredith@melonmedia.com.
More like this story