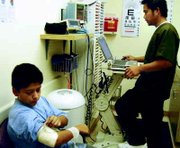 Emilio Mireles of Mabton was attacked by a dog as he was attempting to deliver a copy of the Daily Sun News yesterday in northern Mabton.
"We were in the car, pulled up to the house and he started taking the paper up to the door when the dog jumped off the porch at him," said Shelley Mireles, mother of the 12-year-old paper carrier.
"I had my seat belt on and, when the dog, a Boxer, started attacking him, I couldn't get out of the seat belt. I was trying to get out of the car with the seat belt on. It was happening so fast," said the still emotional mother this morning.
"I'd never seen a dog attack a person like that. It made two lunges at him. The first just kind of missed him. The second one hit him and tried to take him down," said Shelley.
A quick call on Shelley's cell phone alerted paramedics that aid was needed, and, while she sat in the back seat of her own car trying to staunch the blood from bites on Emilio's forearm, a woman in a neighboring house drove them to Mabton's fire station where they were met by a paramedic.
When the bleeding was stopped and blood cleared away, the wound was not as serious as Shelley had feared.
"I thought his arm had been nearly torn off," she said.
Emilio's father, Gabriel, drove him to Sunnyside Community Hospital for further treatment.
"The doctors said it would take 14 stitches to close it, but they put in only four so it would stay open and drain," said Shelley.
This morning, Emilio's right eye was black and blue, his arm painful and swollen and his right hand still numb.
The family received word this morning a 10 o'clock that the dog, which had been searched for yesterday after the attack, had been located and was being picked up by Mabton city employees and Granger Chief of Police Robert Perales, who is helping Mabton's police department since Mabton's police chief retired July 31.
"The dog needs to be quarantined at least so we will know if Emilio needs to have rabies shots," said Shelley.
Yesterday's attack was not the first suffered by the news carrier.
Emilio has been threatened twice by dogs while on his paper route. "He escaped the first dog and the second, a pit bull, tore his pants off, but he got away before he was bitten," said Shelley.
"This time, the dog terrified him."