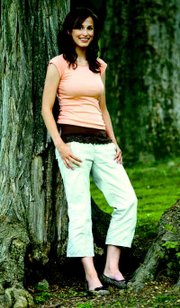 Sixteen-year-old Vanessa Van Boven turns 17 in September. A perfect birthday gift would be for her to be named to the Miss Sunnyside court, or better yet, Miss Sunnyside.
The daughter of Dan and Melanie Van Boven is in the running for the title of Miss Sunnyside 2006-07.
"I'd be a great Miss Sunnyside," Van Boven said. "I'm a very organized and efficient person. I live a very consistent lifestyle and I think it's one people can look up to no matter where they see me."
Van Boven added she thinks she would make a good representative of Sunnyside and would accomplish a lot if she were named Miss Sunnyside.
If Van Boven is named Miss Sunnyside she will work with the Sunnyside recreation office.
"I'd like to work with the staff to create new activities, not just for children, but activities for families and seniors as well," she explained.
She said she would also like to continue existing activities such as costume contests centered around the holidays.
"I want to get out there and be involved with the kids to be a positive influence in speech, action and attitude," she said.
Van Boven will be a junior at Sunnyside Christian High School this year. She was a cheerleader her freshman and sophomore years, but this year she left her pom poms on the floor and tried out for the volleyball team.
"It's something I wanted to compete in for high school," she said. This week she was named to the varsity squad.
She gets good grades in school, compiling a 3.5 GPA. Her favorite class so far has been church history. "It was very interesting," she added.
She sings in the choir and loves it. She's been involved since she was in the second or third grade. She can't remember which one. She said she loves to sing, especially worship music. Van Boven is hoping to make the honors choir team at school this year.
After Van Boven finishes her schooling, she would like to become involved with a group called Youth with a Mission (YWAM).
"I'd be a missionary intern for one year," she said.
She doesn't know exactly where she would be going but thinks it would be somewhere internationally.
When she finishes her year with YWAM she would like to attend Northwest Nazarene University in Napa, Idaho to study either elementary education or Christian psychology.
All summer long Van Boven has been working at the Dairy Fair in Sunnyside. She worked quite a bit this summer but still found time to have fun and enjoy herself.
She does this through swing dancing.
"I started swing dancing about a year ago," she said. "I took a swing class last summer with Jim Ide."
There she met Matt Massey and has been swing dancing with him ever since. She danced with him at the Grandview Follies and he will dance with her at the Miss Sunnyside pageant during the talent portion of the show. Van Boven has also recently joined the Zillah Swing Kids Club and hopes to be involved with the club's performing arts program.
When she's not swing dancing she likes to listen to music. Her favorite types are swing, Christian and worship music.
She also leads two Bible study sessions, one at her church and the other at her school.
She likes to read too. She's reading a book entitled Not even a Hint. She said it's about Christian dating and withstanding sexual temptations.
"I bowl a lot, too," she added. "I kind of have a bowling family."
She also likes hanging out with her brother. "He's my best friend," she said. "We're only 11 months apart so we do almost everything together."
She counts two role models in her life. The first one is her grandmother.
"She's taken on the responsibility to help raise me," Van Boven explained. "The influence she has had on my life has been incredible. She is a very good example of a strong Christian lifestyle."
Her other role model is Jesus Christ.
"He lived the same life I've had to live," she said. "The same temptations and the same challenges, but he did it perfectly. The reason I live my life the way I do is because of what he has done for me. I know I'm not perfect, but I do strive to live as he did."
She's had fun with the experience leading up to the pageant.
"Having my best friend (Cassie Herndon) involved with me in Miss Sunnyside has definitely been fun and has made things easier," she said. "I enjoy all the girls very much. They're all very different and unique. Just getting to know them has made this experience worth it."