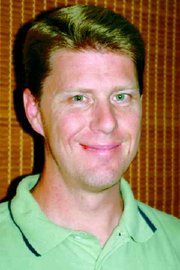 When one door closes, another opens.
That's how Shane Mortensen views the end of his 11-year career as a Sunnyside Police officer.
Mortensen's last day on the job was yesterday, and it marked the close of nearly one year of recovery, hope and disappointment following major surgery.
Diagnosed last fall with a benign brain tumor, Mortensen underwent surgery for its removal in October 2005.
That was followed by paid medical leave until he returned to work for Sunnyside police in February 2006. From then, until his resignation last month, he was assigned to light duty helping out in the department's office and property or evidence room.
"They've been very kind in giving me work," says Mortensen, a devout Christian. "They're pretty patient."
He contends, though, that the city's patience ran its course last month.
In early August, Mortensen asked for and received a six-month leave of absence.
Though it was without pay-and without guarantee that his job would be waiting for him six months later-Mortensen said a key condition of the leave was that he and his family would be able to retain the city's medical insurance benefits.
Mortensen said he would be required to pay his portion of the monthly insurance premiums, about $60, during the leave and the city would pick up the remaining cost of the premiums, about $800.
"In our (police) guild's contract with the city we are allowed to ask for up to a six months leave of absence and keep our insurance," he said.
Mortensen recalled that he was "ecstatic" when he received the approval letter, dated Aug. 2, from Sunnyside Police Chief Ed Radder.
"It would have given me time to relax and recuperate, to see what I needed to do next," Mortensen said of the time he felt he needed for doctors to better bring into control the post-surgery medication they prescribed for him.
The leave would have given him time.
But it won't, because Radder denied the leave in a letter dated Aug. 15-a copy of which the Daily Sun News has acquired.
The city's change of mind began, Mortensen says, before Aug. 15.
He said he did not receive the approval letter until Aug. 7, and on Aug. 14 the city was questioning whether it would pay insurance coverage during the leave.
While the guild contract wording on unpaid leave points to receiving insurance coverage, Mortensen said the city felt it should not have to pay for the coverage.
He says that's because the city referred to wording elsewhere in the contract that says an officer must be compensated for at least 80 hours of work per month in order to receive the medical benefit.
Mortensen said the police guild attorney offered to file a grievance.
The city, he says, took matters in hand by revoking the leave in a letter that Mortensen said was delivered to him just an hour before his shift ended on the day before the leave was to begin.
"I was so mad I could spit," Mortensen said of his first emotion upon receiving the denial letter.
But the news, he says, got even worse.
Tucked away alone on the top of the denial letter's second page was a three sentence paragraph.
In it, Radder told Mortensen he would complete a short-term project in the department's property room and, effective Oct. 1, "conditions outside of our control are preventing your return to full duty status."
Mortensen's wife, Tina, knew what that meant.
"You're going to be released,' she told him. "You're going to be fired."
Though initially upset and angry by the news, Mortensen said he does not blame Radder.
"I've known the chief since I was a child," Mortensen said. "He's the reason I became a police officer."
Mortensen added, "The decisions were made by the City Manager (Bob Stockwell). Since Ed is the chief it put him in the position of having to be the one to let me go."
Stockwell said it was his understanding that Mortensen voluntarily retired with a medical disability.
"We had kept him on extended light duty and it was ultimately determined there were no prospects of him returning to the position (as a full duty police officer)," Stockwell said.
As far as the city covering insurance costs during a leave of absence, Stockwell said that was not an option.
"That's not the case," he said of providing leave coverage. "We are required to allow them to take a leave of absence, but they have to pay the health insurance coverage themselves."
Stockwell expressed surprise that there was any issue with Mortensen's departure from the police department.
"As far as I know it was a mutual agreement," he said. "The leave of absence didn't accomplish what he wanted it to do."
Radder said there was little he could say on Mortensen's situation.
"If he (Mortensen) had his druthers and we had our druthers I don't think we'd be facing this issue," Radder said.
"I'm not at liberty to discuss the underlying issues," he added. "But it's not a reflection on Shane or his performance. The reality is that it's out of everybody's control, unfortunately."
But that doesn't change the fact that, according to Mortensen, a leave of absence was apparently revoked at the 11th hour. Nor does it change the fact he's out of a job.
Mortensen's anger over the denial, and imminent termination, turned to acceptance as he turned to prayer.
An active member of the Grandview Nazarene Church, Mortensen said his change of heart was as if "God was using a 2x4 over my head to tell me to forgive."
It also encouraged Mortensen to pursue his long-standing dream of becoming a minister.
With the door as a police officer closed, Mortensen said he will pursue an open door to ministry by participating in a four-year training program available through the church.
He'll also serve as a volunteer chaplain for the Sunnyside Police Department and plans to participate in a non-profit chaplain ministry to serve other law enforcement and fire agencies in the Lower Valley.
But to pursue those open doors, Mortensen and his wife decided to reconcile themselves to the loss of his police career.
"I couldn't just work there knowing they were going to release me in a few weeks," he says. "So my wife and I decided it was time to jump into ministry like I've really been wanting to do all along."
Mortensen decided to forego pursuing a grievance against the city and submitted his resignation effective the end of August.
His insurance coverage through the city expires at the end of September. It covers Mortensen, his wife and their three children.
"After that we won't have insurance and we'll see what we can do," he said, noting his family cannot afford to keep the insurance plan he had through the city.
Whatever they do, it will be by faith.
"Now I must follow my calling that I felt before and waste no time," Mortensen wrote in his resignation letter to the city. "I have been called to be in ministry and teach others about Jesus and that I must do."
It's the same faith that Mortensen says got him through surgery nearly a year ago for the brain tumor.
"I have definitely had conversations with God in going over this," he says softly.
And God's response during those times of crisis?
"I know it's hard but that's okay, you'll get through this," Mortensen reflects with a smile.