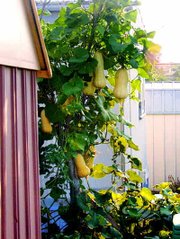 GRANDVIEW - There are many attractions to behold in the back yard of Chuck and Elva Mattocks' Grandview home. They have made excellent use of the limited space they have and are able to produce a variety of fruits and vegetables.
The most notable attraction in their garden is their squash tree. On first glance, it looks as if the squash plant has become a tree, with squash dangling high in the air, but it is not.
"I took an old dead tree from the golf course and let the vine grow up it. I am surprised it holds the weight of the squash," said Chuck.
"We plan on eating the squash and giving them to our neighbors," said Elva.
Aside from the squash, their garden has been very prosperous this year. They had 13 pints of beets pickled, several pounds of tomatoes and have several cantaloupe nearly ready to pick. They also grow various types of peppers.
When they are not busy in their garden the Mattocks spend time at the Black Rock Creek Golf Course. Chuck has made more than 90 birdhouses, which dot the course. Chuck personalizes each birdhouse by putting the name of an employee or fellow golfer on it.