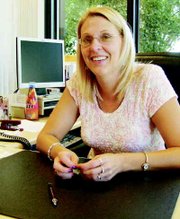 Debbie Hazzard, manager of Yakima Federal Savings in Sunnyside, invested 24 hours and is receiving her dividends daily.
When Nuestra Casa of Sunnyside offered a Spanish-language class for business people, Hazzard signed up for the 12-week course, hoping, she said, to be able to make her customers more comfortable.
"My original reason is obviously because of the community we live in. Some don't speak English or very much English and, when I'm sitting here with a translator, but they're understanding what I'm saying but aren't comfortable enough to reply in English, I want to be able to communicate so I can make them feel comfortable," said Hazzard.
"The main thing I learned in the class is that it's difficult to learn another language!" said Hazzard.
"It was easy to do on paper, but to be able to speak, you need to think what you want to say and then translate it from English to Spanish. It's not easy," she said.
"I grew up in Sunnyside, but, as I grew up, I never really felt I needed to learn Spanish. And now, I took the class not so much from necessity, but just because I'd like to have a conversation in which we both can understand each other," she said.
"I really enjoyed the class. Some came into it with more prior knowledge than others. I had no Spanish, other than to count to 10 and greet people and a please and thank you," said Hazzard. "There were ministers, a reporter from the Yakima Herald, a variety of people, some in business, some not.
"It was a good class. Now, I can make appointments with my customers, tell them to fill out an application and tell them to bring it back on whatever day it's needed. And I may be able to talk to them a little about their house, if they are there for a loan."
Hazzard had high praise for Sister Grace, who gives the class.
"She corrected us a lot," said Hazzard, laughing.
Hazzard said she is still trying to get her "Rs" to roll satisfactorily, but had the Spanish double Ls downpat from her high school Spanish class.
With the Sunnyside course behind her-and her Spanish books still firmly in hand-Hazzard said she feels ready to try a Spanish immersion course being offered in Yakima later this month in which all of the conversation is in Spanish.
"The class at Nuestra Casa was definitely an introduction course, starting with the basics and working our way through it. We did conversation and that's when it got difficult for me," said Hazzard, who completed the course this past spring.
Another 12-week Spanish-language class will begin Tuesday, Sept. 12, at Nuestra Casa, 1007 South Sixth Street. It will be held every Tuesday and Thursday during the noon hour for the 12 weeks.
"We give it so business people can learn Spanish, but it is a good class for anyone to take and is open to everyone," said Sister Mary Rita Rhode, director of Nuestra Casa.
For more information about the course, call Nuestra Casa at 839-7602.