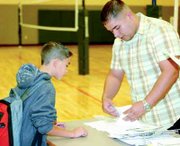 Sunnyside police officers had 13 thefts and four burglaries to deal with over the three-day weekend.
Among the thefts were two cars. A red, 2003 Chevrolet Silverado was taken from a residence in the 1600 block of South 14th Street, reported at 9:05 a.m. Thursday, Aug. 31. On Sunday at 4:41 p.m., a resident reported a vehicle with the license number 774 UJH was taken from a residence in the 1700 block of Cascade Way.
Other thefts included:
-a car stereo taken from a car parked at a residence in the 800 block of East Grant Avenue, reported at 4:53 p.m. Thursday.
-a key to a building at Pioneer School, reported at 5:33 p.m. Thursday.
-gas pumped but not paid for at The Outpost, reported at 9:20 p.m. Friday. Suspect left in a 1990 Oldsmobile Cutlass (Lic. # WA 665 PHJ).
-a pitbull taken from its chain at a residence in the 2700 block of Allen Road, reported at 3:21 p.m. Saturday by the owner, who said two bald men took the animal and drove off in a gray vehicle.
-money taken from a room at Country Inn, reported at 7:49 p.m. Sunday.
-attempted theft of a vehicle parked in the 100 block of West Parkland, reported at 2:03 a.m. Monday by a resident, who told officers a juvenile ran from the scene.
-a stereo taken from a car parked in the 1700 block of Cascade Way, reported at 9:18 a.m. Monday by a resident, who told officers the thief had left a machete and a knife at the home.
-$428.74 taken from tills and/or a safe at a business in the 2800 block of East Lincoln Avenue, reported at 11:57 p.m. Sunday.
-a phone, taken some time Friday from a residence in the 700 block of McClain Drive, reported at 12:35 p.m. Sunday.
-a wallet stolen from a man while he was shopping at Wal-Mart, reported at 1:20 p.m. Sunday.
-aluminum cans taken from a recycling bin at Food Pavilion, reported at 3:19 p.m. Sunday by employees, who said someone in a blue van had taken them.
The first of the four burglaries was reported at 11:15 a.m. Friday by a resident in the 1300 block of Sunnyside/Mabton Highway, where the house had just been broken into. The second was a burglary in progress at a home in the 500 block of Thompson Drive, reported at 4:35 p.m. Friday when an automatic alarm was called in by an alarm company. The third was reported at 12:20 a.m. Sunday by a woman just returning home, who discovered identification, social security and debit cards among the missing items in that burglary. The last was reported yesterday, Sept. 4, at 4:08 p.m. by a woman, who told officers her brother's residence in the 1100 block of East Decatur Avenue had been broken into and many items taken.
From 8:41 a.m. on Aug. 31 to 7:43 a.m. today, Sept. 5, officers also investigated 16 automatic alarms, 16 animal problems, two assaults, one citizen dispute, one disorderly conduct, three driving while under the influence, one providing false information to police, 15 fights, 10 juvenile problems, one loiterer, one report of lost property and nine of loud music, three 911 hang-up calls, one runaway juvenile, 10 suspicious people, one threat, 22 traffic problems, five trespassers, six reports of vandalism, one vehicle prowl, one violation of a no-contact order and one report by a Prosser woman of possible rape.
They also served four arrest warrants, gave 12 assists to agencies and 10 to residents, provided an extra patrol, received two reports of found property, made two checks on the welfare of residents, answered 11 informational calls and recovered a stolen vehicle that was found completely burned.