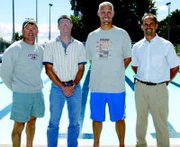 KENNEWICK - Four Sunnyside men competed last Saturday in the Titanium Man Triathlon in Kennewick.
Harlan Halma, Steve Martin, Jeff Bosma and John Kilian have been training all summer to compete in the event.
The goal of all four men was to finish the race and each one did that. Halma was the top finisher of the four with a time of 2:31.56, Martin was next with a time of 2:38.20, followed by Bosma with a time of 2:42 and Kilian's time of 2:55.30.
"It was fun," said Kilian. "Fun to be done."
Kilian was disappointed with his performance, citing some technical difficulties in the race. He hadn't practiced swimming with his wet suit on and that hampered him during the swim portion.
When he finished the swim Kilian's problems continued on the bike ride.
"It was one of those first time rookie mistakes," Kilian said.
His bike got a flat tire, costing him precious time and denting his desire to finish.
"I kind of lost my will to race after that," he explained.
Kilian eventually finished the bike ride and made up some time during the 10K run.
"The run was definitely my strongest event," he said.
This was Kilian's first time in a triathlon, as well as Bosma's first time, too.
Kilian was training this summer to run a marathon when he hurt his Achilles tendon. Kilian and Martin were running together when Martin suggested Kilian try his luck with the triathlon.
Martin had run it last year with Halma, who has been doing triathlons for several years.
Last year Bosma saw Halma and Martin training for the event and decided to give it a try this year.
Each man brought different strengths to the event. Bosma bikes about 50 miles a week. Killian runs 19 miles a week. Martin and Halma said they were pretty comfortable with all aspects of the triathlon.
"It was a good race," Martin said.
Martin started out well in the swim, saying the water was nice. He was the first out of the water between the other three but was in third by the end of the bike ride.
"The bike ride went really well," he said. "It felt good the whole way. I was 30 minutes faster from last year."
By the time the 10K run started for him, Martin was tired.
"I used too much energy on the bike," he said. "The run took a while to complete."
He plans on competing in next year's triathlon.
"That's the plan anyway," he said. "It makes it fun when everyone does it together."
Kilian isn't so sure he'll be competing next year.
"That's a good question," he said. "I'm looking forward to doing some training with the guys but I don't know about participating next year."