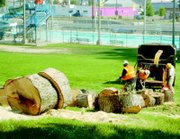 The City of Sunnyside is giving away tree waste generated from the tree removal at Central Park.
Offering the waste to the community helps to reduce the cost of the tree removal, as the company charges a fee to take away the waste, and it offers local residents the opportunity to spruce up their yards and gardens.
The tree removal process began yesterday (Tuesday) and will continue for four or five days. Wolff's Tree Service is executing the tree removal.
The initial assessment of the tree removal called for 34 trees to be removed but has now been whittled down to 19 in Central Park.
Several members of the community questioned the removal of the trees, requesting that they be pruned instead.
A front-loader will be available for the convenience of the public to load firewood and wood chips into their vehicles. The front-loader service will be provided Thursday, Sept. 7, and Monday through Thursday, Sept. 11-14, from 3 to 4:30 p.m.
The public is welcome to bring shovels and take debris any time or day of the week. The pile of debris is located in the south end of the parking lot at Central Park.
For more information contact the Sunnyside Public Works office at 509-837-5206.