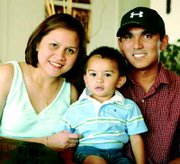 Living in San Carlos, Negros, in the Philippines, Roy and Anne Pasicaran led a comfortable life. They both had jobs, Roy as a civil engineer and Anne as an OB nurse. The couple lived with Anne's family and enjoyed the weather and the food their home country offered.
Still, they both wanted to raise a family and have better opportunities for them, so they decided to come to the United States.
"Working in the Philippines is hard," Anne said. "Nurses work for a salary and it doesn't matter how many hours you work a day. You're just happy to have a job."
She said when she first started working as a nurse in the Philippines she had to work for free for the first couple of months before she could secure a paying position.
The couple explained that for many Filipinos, nursing is a way out of the country.
"Right now most of the people in the Philippines are taking classes to become nurses," Roy explained. "It's their only way out. Even doctors are taking nursing classes."
Several countries around the world recruit nurses from the Philippines, she said.
In fact, that's how she landed employment here in Sunnyside.
She said the director of nursing at Sunnyside Community Hospital came to the Philippines along with 19 other representatives from hospitals in the United States.
"I was lucky," she said. "Sunnyside was looking for OB or ER nurses."
Anne signed on with the hospital and after waiting several months for paperwork to clear and visas to be issued, she and Roy trekked to Sunnyside in 2002.
She said it's different now in the Philippines. Because so many different countries are recruiting nurses from the Philippines, the government there started to get worried about a shortage. The Philippine government now requires all nurses in the Philippines to work for at least two years in country before they can work overseas.
When the Pasicarans arrived in Sunnyside, Anne was asked to speak at the weekly Sunnyside Daybreak Rotary Club meeting. While there, she met Jim Trull and he told her he might have a temporary position at Sunnyside Valley Irrigation District (SVID) for her husband.
"SVID hires temporary employees every summer," Roy explained. "I started as an aide to the engineering department. It was my line of work and I've never stopped working there."
Roy spends his time at SVID surveying land and dealing with water and pipes. In the Philippines he worked mainly with buildings.
The couple said one of their main reasons to come to the states was to make more money.
Although their combined salaries per month in the Philippines was $600, a nice amount of money in that country, they needed a lot more to take care of Anne's father.
Anne's father is in the end stage of kidney disease. They said it's hard to support his medical bills back in the Philippines.
"It's like a house payment," Anne said. "But it's why we're here."
"We have a purpose," Roy added. "If we weren't here he probably wouldn't be around."
Anne's father must have dialysis three times a week and the couple pays all of his hospital bills.
"We're trying to improve the quality of his life," Anne said of her father's last days.
If they were still living and working in the Philippines, they wouldn't be able to help.
Anne noted some of the differences between the hospitals here in the United States and those in the Philippines, one of which is technology. The biggest difference is the procedures.
"There is never any medicine thrown away in the Philippines," Anne said.
She said here in the states, if only half of a vial of medicine is used, the other half is thrown away. Even if the patient is to get the same medicine in an hour.
Another American procedure that surprised Anne is when nurses or doctors are through with rubber gloves here, they throw them away. In the Philippines, the gloves are washed and sterilized.
"In the Philippines there is so much cheap labor it's more expensive to throw the gloves away than to wash and sterilize them," Roy explained. "Here, it's more expensive to have the labor clean them."
With all the differences between the two countries, the Pasicarans think of Sunnyside as home now.
"I like it a lot here," Anne said. "Everything has been great."
Everything except her newly discovered allergies to the area's grass and weeds.
Besides the allergies, she thinks Sunnyside is a great place to raise their 2-year-old son, Riley.
"The states are very family oriented," she added. "If you work hard here you get something."
"You're compensated well," Roy added.