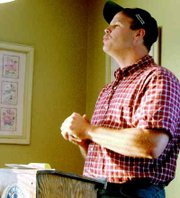 "My dad has always been interested in new technology," said Dan DeRuyter at this morning's Kiwanis International Club meeting in Sunnyside.
About two years ago he and his father attended a convention in Lynden, where they saw an anaerobic digester. That led them to Wisconsin, giving them a first-hand look at how the digester worked.
After researching the benefits of the digester, the DeRuyters have begun to build their own. The $4 million project will consist of two large engines, each costing $750,000, and a concrete vessel in which the manure lies during the 21-day digestion period, according to DeRuyter.
The vessel is the size of a football field, 300 ft. by 300 ft. and is 16 feet deep. It has a sealed lid, so heat does not escape. A temperature of 101 degrees is required for the digestion process, DeRuyter said.
There are many benefits to the digester, according to DeRuyter. The power it produces will provide electricity that will be purchased by Pacific Power and Light.
When manure is placed into the digester it works its way through the vessel and is separated. During the digestion process, the manure changes into a substance similar to peat moss, which DeRuyter said has plans to sell.
The digester can process various types of waste products, including potato waste and juice from wineries, and make it into a reusable compost for orchards and other crops.
DeRuyter mentioned several other benefits to operating a digester, including creating bedding for cows, nutrient management and reducing the smell of the dairy, which helps neighbor relations.
Geared toward larger dairies, a minimum of around 1,500 to 2,000 cows are needed to make the digester economically feasible.
The anaerobic digester at DeRuyter Bros. Dairy in Outlook will be completed sometime in October.