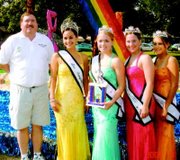 With less than two weeks left in their reign, the Miss Sunnyside Court has been staying busy attending parades, pageants and winning awards.
On Saturday, Sept. 2, the girls traveled to Ellensburg where they joined 166 other entries in the Ellensburg Rodeo Parade. The Miss Sunnyside Court rode their float in the parade with mounted posses and other courts, including the rodeo royal court.
The Miss Sunnyside Court received a trophy but so far they haven't been able to find out which award.
"The announcer gave the girls a trophy of a guy on a bicycle," Brenda Veiga, mother of Miss Sunnyside's first princess, Corrin Veiga, said.
Later that night the Miss Sunnyside Court traveled to Wapato to attend the Miss Wapato Pageant. The title of the show was Masquerade and the girls were given masks to keep with the theme.
The Miss Sunnyside Court helped welcome Alba Delgado as she was named Miss Wapato and Angelita Garza and Anselma Azurin as princesses for Wapato.
On Monday, Sept. 4, the Miss Sunnyside Court participated in their last out-of-town parade at the Prosser States Day Parade.
"The crowd was wonderful," Veiga said. "There was a lot of applause for them."
They joined 123 other entries in the parade and were later awarded 'Best Community Float' in the parade. Veiga thought this brought the number of awards for the Miss Sunnyside Court to 17.
With the Miss Sunnyside Pageant coming up Saturday, Sept. 16, the girls have been helping the 2006-07 Miss Sunnyside contestants prepare for the show. They are also practicing their own skit which they will perform at the pageant.
The current court is also finishing up its tamale sale to help raise money for the royalty luncheon hosted by the Miss Sunnyside Court and their parents after the Sept. 16 Sunshine Days Parade.
This Sunday, Sept. 10, Miss Sunnyside Kerri Urrutia and princesses Corrin Veiga, Dianna Mendoza and Heather Van Corbach will start their last week as the Miss Sunnyside Court with a dinner at Anthony's Restaurant in Richland.
Veiga said the Cargil Grain Company donated $50 for dinner to each girl as a way of thanking them for their service this past year.
She added the girls are a little sad their reign is almost over.
"They've had a really good year," she said. "They've been very busy but thoroughly enjoyed it."
She said the girls have spent the last year traveling all over the state receiving compliments and standing ovations for their float.
"It's been awesome," she said.