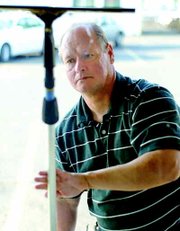 A 10-year career selling and installing window blinds took a turn for Michael Jackson of Grandview, who for the last three years has kept busy as a full time window washer.
Jackson's start in the window washing trade-he runs his own business called Michael's Window Cleaning and Blind Install-began during a three-year stay in Columbus, Ind.
He was in Indiana to help out with a Bible study teaching program and to experience the Spanish language and culture there.
Columbus proved to be a good training ground, as Jackson said the city is full of older homes and is in the "top five places where millionaires live" in the U.S.
Jackson and his wife Tiffany returned to the Lower Valley in August 2005 and settled in Grandview.
He said he was contacted for his first window washing job before he could even unpack his bags in Grandview.
Jackson says the thing he likes best about his work is the satisfaction of seeing the results of his work, of a job well done.
"When I walk away I feel satisfied and know I've done a job well. I can see my work," he said.
To be sure, the Lower Valley can make it tough on a window washer, especially with the heat of direct sunlight on a window.
"My challenge here is going and right away looking to see how the building is positioned and how the sun will rotate," Jackson said. "It's very strategic."
The pre-planning is needed, he said, because it is better for windows to be washed when they are out of direct sunlight. "You put water on a hot pane and you can do damage," he said.
His preparation includes knocking off dirt from around window sills and cleaning cobwebs that can gather around a window frame.
Next comes applying water and cleaning solution followed by a careful squeegee. Attention is also paid to detail, such as removing smudges and other marks.
Tiffany, who sells window blinds, would seem to be an appropriate name for the wife of a window washer.
"I talked to her about using her name in my business, but I didn't get very far," he laughed.