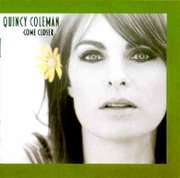 It is evident to see Quincy Coleman is influenced by music of the 20's-50's, pre-rock'n'roll vintage. Not my first choice to listen to, but music of that time era is good in its own right.
Coleman's second studio effort, "Come Closer," sounds like a musical theater performance, which I despise. The music itself isn't that bad, but the musical arrangements are a little over the top.
Coleman describes her music on her webpage as "an Israeli, surf punk, gypsy swing" mix. Huh? That description of her sound confuses me. I don't hear the Israeli influence as much as I hear the presence of languorous French rhythms.
Her lyrics are lacking depth and are quite bland in comparison to her music. Granted, the album has pop influences, but that does not mean that it has to be mindless. In the track entitled "Don't Come Back," she says "Don't Come Back" somewhere in the ball park of 10 times.
To be honest, I expected more from this album. Her first album dug a little deeper lyrically and musically than this one.
"Come Closer" is an eclectic mix of musical styles, which is refreshing in a time when it seems like the same music is being played by different artists on the radio. She definitely has a sound all her own.
It is hard for me to get past the kitschy theatrical sound of this CD, but if you like musicals, you'll like Quincy Coleman. She has an admittedly interesting sound, but I just can't get into this CD.
The track "In Your Eyes" was the only track I felt I could relate to. It is slower than the other songs and really showcases Coleman's talent. All of her influences are combined in a way that sounds like an entirely new brand of music. Her vocals are outstanding on this track.
But, you have to go through the entire album before you get to the song because it is the last one.
"Come Closer" is quirky. I usually like quirky, but I lived in an apartment with thespians who were obsessed with musicals. All that time spent watching Jesus Christ Superstar has made listening to musicals like hearing nails on a chalkboard.
Coleman has generated buzz in Los Angeles with her eclectic sound. Her music has been featured on TV shows such as Dawson's Creek and on the soundtrack for the movie Crash. "Indeed in Love" from "Come Closer" will be in the upcoming Jason Alexander movie "How to Go on a Date in Queens."
Her music will also be included on an upcoming compilation with artists such as Sarah Mclachlan and Bryan Adams.
She is scheduled to play live at the Sunset Tavern, located at 5433 Ballard Avenue in Seattle on Wednesday, Sept. 13, at 8 p.m. On Thursday, Sept. 14, she will perform at Sam Bonds at 470 Blair Boulevard in Eugene, Ore. at 8 p.m. On Sunday, Sept. 17, Coleman will play at Buffalo Gap, located at 6835 Southwest Macadam Avenue in Portland, Ore. The time is not yet announced.