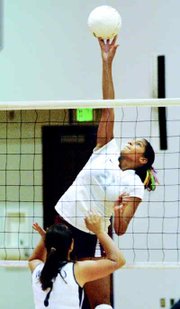 GRANDVIEW - The Grandview varsity volleyball team took control early on enroute to a 3-0 sweep over Wapato last night.
The contest marked the home and CWAC opener for the Lady Greyhounds, who tamed the visiting Wolves to the tune of 25-6, 25-5 and 25-8.
Grandview's front line of Kinzi Poteet, Christine Penwell and Kealey Johnston dominated the net. The Lady 'Hounds also found holes in Wapato's defense with their service and passing games.
Johnston paced the Grandview attack with seven kills, five digs and three aces. Poteet pounded six kills and a block, while Penwell contributed four kills.
Chante Bottineau dished out 12 assists for the Lady Greyhounds and tallied 11 service points. Teammate Jessica Gonzalez had a team-high 12 service points to go along with four aces and five digs.
Sydney Mottice served a team-high four aces for Grandview, and teammates Katie Veloz and Danica Martinez each collected six service points.
The total team effort led to total domination over Wapato to put the Lady Greyhounds at 1-0 for the season and 1-0 in league play.
Grandview Coach John La Fever, though, kept the match in perspective.
"We played okay," La Fever said. "We're pretty balanced all the way around."
He also found room for improvement.
"We'll work on our set situations," La Fever said of the all important sets that literally set up Grandview's big hitters at the net for kills. "Some of the girls were changing sets," he added.
Despite a one-sided win last night, La Fever has good reason for restraint given the new and improved CWAC this year that features former 3A powers Prosser and Ellensburg.
"We just look for the things (from last night's match) we need to work on and learn from them," he said.
Grandview's next learning opportunity is next Tuesday at Lower Valley, and now league, rival Prosser.