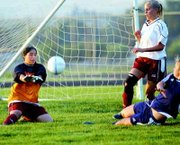 GRANDVIEW - For nearly 30 minutes the Grandview girls soccer team kept Selah within its sight, trailing 1-0. Then things started to unravel for the Greyhounds.
With 10:46 left in the first half Keeper Susana Sanchez let a goal slip past her to allow Selah a 2-0 lead. Thirty seconds later as she was attempting to stop another goal, she was kicked in the mouth by a Selah player and had to leave the game.
Enter sophomore Araceli Delgado, someone who just started playing the keeper position and has only practiced at it for a couple of weeks. Less than a minute later it was 3-0 in Selah's favor and the rout began.
"It was a tough game," Grandview Coach Ronda Penwell said of her team's 6-0 loss. "The first game is always tough on the girls and Selah is a very good team."
Penwell, an assistant coach to head coach Anne Holden, will be in charge until Holden gets back from a family emergency in Australia. The team is expecting her back by Sept. 18.
"We couldn't quite bring it together," Penwell added. "We have the individual talent. Teamwork is what we'll be working on."
The Lady 'Hounds found that lacking as Selah mounted attack after attack in the second half. Although there weren't any stats kept by the Grandview team, Penwell said the Lady 'Hounds had one shot on goal in the first half and was not able to mount any sort of attack in the second half.
Delgado did give up four goals but should be given credit for not allowing more as Selah had the ball in Grandview's territory all night.
"Delgado did a really good job," Penwell said. "She took a lot of shots on goal."
Penwell added the ball had to get through everyone else before it got to her.
Grandview's defenders, Sarah Caskey, Allison Grow and Jasmin Espinoza, were kept busy trying to contain Selah's Amber Gooch, who basically had her way with the Greyhounds.
Gooch was constantly getting behind the defenders and racing towards the goal with the ball. Other standouts for Selah were Rochel Burke and Lauren Zeutenhorst.
Another problem that hampered Grandview were the many injuries the Greyhounds suffered.
"It took a while to work the kinks out," Penwell explained. "Luckily all the injuries were minor."
Grandview (0-1, 0-1) will try to learn from its mistakes and pull it together for Coach Holden, Penwell said. They travel to Prosser to take on the Mustangs this Saturday, Sept. 9, at 1 p.m. in both teams' league openers.