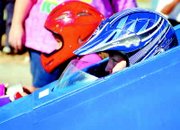 GRANDVIEW - Down Euclid Road they roared, ages 7 to 82 all taking their turns during Grandview's Soapbox Derby held on Saturday.
The competition was friendly between the 15 participants, who glided down Euclid in creations ranging from souped-up paint jobs to barebone wooden boxes.
One of the favorite rivalries on display was between husband and wife competitors Jack and Sheri Hollmeyer of Mabton.
Last year it was Sheri with the upper hand in the soapbox derby. As they took their places at the starting line on Saturday, Jack was asked if the outcome of the race decided who had to do the dishes.
"No, it decides who sleeps in the dog house!" he joked.
Of course, any part of a soapbox derby is finding strong arms and legs to pull the cars back up the hill. On Saturday it was the Grandview basketball team who lent a helping hand to bring the entries back up to the starting gate.
So who got the upper hand this year in the Hollmeyer home? Who will "sleep in the dog house"?
In turn about fair play it was Jack, with Sheri second in the adult division, followed by Dave Van Dyke in third place honors.
Kendra Hollmeyer won the youth division, with Hannah Vlieger and Briana Biggs taking home second and third.
Grandview City Councilman Bill Flory won the Celebrity 500 division and Jack Hollmeyer was a two-time winner with a first-place finish in the corporate division.