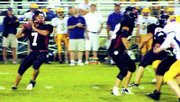 Despite holding the Wenatchee Panthers to just 179 yards of total offense, the Sunnyside Grizzlies dropped a 19-10 non-league decision to the 4A visitors last Friday night.
Wenatchee, which yielded 275 yards of total offense to the Grizzlies, took advantage of two turnovers to swing the outcome in its favor.
Other than those two plays, said Sunnyside Coach Mark Marro, his Grizzly football team outplayed the Panthers in every aspect of the game, noting Sunnyside racked up 100 yards in offense above and beyond the numbers Wenatchee posted.
"We drove the ball up and down the field," Marro said.
The tide was turned, however, on two key take-aways by the Panthers.
The first occurred in the opening quarter, when a pitch by QB Adrian Cantu was mishandled. The loose pigskin was swooped up by a Panthers defensive player and he rumbled nearly 80 yards for Wenatchee's first score of the game.
The Panthers also came up with a critical turnover in the third quarter, with Sunnyside leading 10-7 and threatening to go up by 10 points. Deep inside Wenatchee territory, Cantu lofted a pass to the end zone but the ball was snagged by a defensive back and the Grizzly drive was thwarted.
Of the two miscues, Marro said "...it's just a matter of cleaning that up." Overall, he seemed pleased with what he saw from his Grizzlies last Friday.
Defensively, Marro said Sunnyside came up with a good scheme against the Panthers and his Grizzlies executed well, only allowing one real drive by Wenatchee the entire game.
In piling up 136 rushing yards against the Panthers, Marro credited his offensive line with strong blocking. "We worked real hard up front," he said.
The Grizzlies' leading rusher was 5'6", 140-lb. junior Joseph Villanueva, who scampered for 71 yards on 10 totes. Sunnyside also got 27 yards rushing from the QB Cantu.
Marro, too, was pleased with Sunnyside's passing attack. Cantu netted 139 yards through the air on 13-of-26 numbers, although he was picked twice. Marro said his first year quarterback did an admirable job of escaping Wenatchee's rush, especially with the tendency by the Panthers to blitz two defenders.
"Adrian moved around very well when the blocking broke down. He made some people miss," Marro said of Cantu, who scored Sunnyside's only touchdown of the night with a 12-yard run in the second quarter.
Cantu's top target was junior Nathan Cornelius. He hauled in four of Cantu's passes for a total of 38 yards. Senior James Baysinger and junior Gibby Briones combined for three catches, each tallying 36 yards.
The Grizzly coach also praised the efforts of kicker Danny Alvarez, who got Sunnyside the early lead with a 27-yard field goal.
Coming up with a kicking game, said Marro, "...is a big step for us."
The 3A Grizzlies (0-0, 1-1) take on their second straight 4A opponent this coming Friday at home when the Davis Pirates roll into town. Marro said the Pirates feature an I-Back offense that routinely feeds the ball to speedy tailback Brett Felton. Last Friday, Felton rushed for 94 yards on 11 carries in a 36-6 loss to the West Valley Rams.
"Davis also has a very good quarterback, but mainly they look to run to get to the edges," said Marro.
Rushing-(Wenatchee) Goff 10-4, Rajanathien 6-16, Nees 1-5, Straight 8-18, Esquivel 5-68; (Sunnyside) Cantu 15-27, Villanueva 10-71, Miller 3-12, Alvarez 3-13, Montelongo 1-10, Sambrano 2-3.
Receiving-(Wenatchee) Nees 8-56, Gallaher 1-10; (Sunnyside) Villanueva 2-26, Cornelius 4-38, Miller 3-9, Alvarez 1-5, Baysinger 2-36, Briones 1-36.
Passing-(Wenatchee) Goff 8-11-2-49, Straight 1-1-0-19; (Sunnyside) Cantu 13-26-2-139.