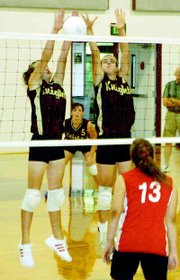 Don't let the 3-0 sweep fool you.
Bickleton's girls threw a scare into host Sunnyside Christian's volleyball team Friday evening before falling 3-0 in the league match.
The Lady Pirates led SCHS 3-2 in the first game, and trailed just 10-9 before the Lady Knights pulled away with a 15-5 run to close out the game for a 25-14 win.
In the second game, Sunnyside Christian roared out to a 10-1 lead and looked set to roll.
Back came Bickleton, though, outscoring the Lady Knights 9-1 to pull within 11-10. It almost got even closer as the Bickleton rally was only stopped by a ball on the net that just fell out of reach.
Leading 12-10, SCHS regrouped for a 13-2 run to close out the game with a 25-14 win. Sunnyside Christian's Abby Bangs got it started for the Lady Knights with an ace on the way to serving four consecutive points.
In game three, Bickleton found its best opportunity for a win in hopes of prolonging the match.
The Lady Pirates rallied from an early 4-1 deficit to lead SCHS 15-13. A play at the net by Bickleton's Morgan McBride was a key during the surge, putting her team up 13-12.
Just as they did in the first two games, though, Sunnyside Christian closed out game three and the match with a run. This time it was a 12-3 rally for a 25-18 game three win.
"We played well," said Bickleton Coach Tom Whitmore. "But volleyball is a game of momentum."
SCHS Coach Tammy Bangs was less pleased with her team. "I told the kids it was kind of an ugly win," she said. At the same time, she said her team packs a powerful punch that just needs to be fine tuned. "They have so much power they don't know how to control it," she said of her players.
Tori VanWingerden was a perfect 23-for-23 behind the service line for SCHS and dished out 11 assists. Teammates Emma Newhouse recorded a team-high eight kills and Melanie VanWingerden had six kills.
There were no statistics available for Bickleton following the game.
Bickleton (0-1, 0-2) travels to Klickitat this Friday and SCHS (1-0, 2-0) hosts LaSalle tomorrow (Tuesday).
On Saturday, playing in an eight-team volleyball tourney chock full of 1A teams, Sunnyside Christian went 1-2 during a series of three mini-matches. The matches do not count against SCHS's overall season record.
A 2B team, the Lady Knights prevailed 25-19, 25-17 over Wahluke in the opener.
That was followed by a tough 25-23, 25-16 loss to host Columbia-Burbank.
In the third match of the day, SCHS battled before falling to Touchet. Sunnyside Christian opened with a 25-17 win, only to fall 25-16 and 15-6 in the following two games.
"Things were just going well," Bangs said of her team's tourney opening win. "Our serving throughout the tournament was pretty good."
Bangs said there is need for improvement in her team's passing game.
Tori VanWingerden connected on 31 of 32 serves and had a team-high 24 assists for the tourney.
Emma Newhouse had 16 kills and teammate Abby Bangs collected 15 service points for SCHS.
Melanie VanWingerden had 12 kills and Joleen VanWingerdeen added 24 service points for the day.