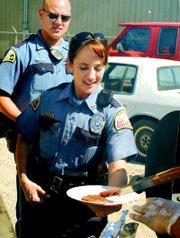 "I thank God for heroes," Cornerstone Assembly of God Pastor Bob Widmann told his congregation Sunday. "Police officers may not look at themselves as heroes, but I look at them as heroes."
Widmann's comments came during a service called "Honor Our Heroes", which recognized those serving in the Sunnyside Police Department.
It was the first such service the church has held, said Widmann, but follows a movement Cornerstone started about four years age that specifically prays for each of Sunnyside's police officers by name.
Conducting a worship service in their honor was just a natural extension of that, Widmann says.
"We just want to recognize our law enforcement personnel and let them we know we appreciate them," he says.
The anniversary of the Sept. 11, 2001 terrorist attacks also prompted the church to action, Widmann said, noting that 72 police officers died that day.
"Tomorrow is the fifth anniversary of 9/11 and I want us to be mindful of all the lives lost," Widmann told the church.
The service featured a slide show of all the department's employees. About 10 police employees were on hand for the service and received a round of applause as they stood one by one.
A barbecue, with the church asking officers to go first in line, followed the service.
"I was very moved by the whole idea and concept," Sunnyside Police Chief Ed Radder later said of the service. "It's just difficult to put into words."
Widmann said later that he was "thrilled" with the turnout of so many police officers from Sunnyside.
And, he added, the church will hold an "Honor the Heroes" next year.
"It's going to be an annual event," said Widmann. "Next year we're going to extend it (the service) to include the fire departments, Sheriff's office and the state patrol."