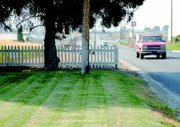 With two-thirds of the 42 portions of properties in hand for Sunnyside's South First Street expansion, the city is working to wrap up the remaining property purchases.
The project calls for South First Street to have a roundabout at the intersection of South Hill Road, curb, gutter and sidewalk, as well as a turn lane.
When completed, South First Street's name will change as well to Ronald Reagan Boulevard.
City Manager Bob Stockwell said the process in preparing for the street widening project is lengthy, taking up most of this year. In addition to buying up the 42 strips of land, the city first had to approve a design for the project and select Yakima County as its appraiser.
As a result, the only construction done to date is piping the irrigation drain along South First Street in preparing for the project.
Because the project won't likely see a construction start until next March at the earliest, Stockwell said there is a possibility the $2.5 million federal grant may not be enough to complete the street expansion.
"The funding is in place," he said. "The question is whether it's enough when we get to construction."
Prices for asphalt and concrete have risen, Stockwell said, which could lead to the project exceeding the $2.5 million allocation.
Even then, Stockwell said the city has options.
"The project would be eligible for gas tax revenues that the city has administered through the state," he said. "If it costs more than $2.5 million then we would seek an allocation of those funds."