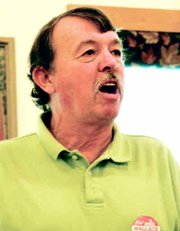 A Lion ventured into the den of the Noon Rotary Club yesterday, carrying a message he promised would be "short and sweet".
Mike Wallace, candidate for Yakima County Commissioner District 3, acknowledged that the club members had probably been inundated with county commissioner candidates, some of whom are Rotary members while Wallace is a Lions Club member.
"But will you see them after election day? Will you see them shopping here in the stores," quizzed Wallace, who is the only county commissioner candidate from the Lower Valley.
Wallace, a 35-year resident of the Yakima Valley and president and winemaker of Hinzerling Vineyard and Winery in Prosser, resides between Sunnyside and Grandview. He and his wife, Frankie, have four grown children, Katherine, Sean, Jason and Jeremy.
Yesterday at the Rotary meeting, he shared his credentials with the club by passing out hand-outs that sketched his education from receiving an associate of science degree at Grays Harbor College to a BA in biology and chemistry at Western Washington University, with graduate work in enology and ag management at the University of California at Davis.
He's been in the U.S. Air Force, has reported for the Prosser Record Bulletin and raises cattle with his wife on their family farm.
He said his main concern for Yakima County is its financial condition. "Grow the economy and nurture the businesses and farm operations we already have here" was his suggestion for turning the economy around.
He praised the efforts being made to promote tourism in the valley, saying: "It's a clean industry. They stay in our motels, eat in our restaurants, shop at our stores and we don't have to educate their children or take care of their health needs. All we have to do is provide good roads and that pays off in the long run."
The Lion who eased, not roared, his way into the Rotary's den yesterday even dared to ask the questions: "Have any of you voted yet? Did you vote for me?"
He laughed good naturedly at the show of hands, and concluded with: "It looks like I still have some work to do."