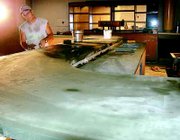 GRANDVIEW - Dan Atha of Grandview has expanded his business, Atha's Edge: Decorative Landscape and Borders, to include concrete counter tops.
Until Atha received a call from Brandon Russell, the owner of Russillo's Pizza and Gelato in Yakima, requesting a concrete counter top, Atha had worked mainly with street curbing.
A concrete counter top may not seem unusual, but according to Atha, he is the only person in the area who installs them.
After completing his first countertop at Russillo's, he found that he really enjoyed the artistic aspects of installing counter tops.
"There are a lot of benefits to having a concrete counter top. It is harder than granite, more durable and can be made to look like anything," said Atha.
A concrete counter top can be installed on-site or can be installed in sections.
Atha said that he can install a counter to be any color or design. "People can decorate their counter top any way they want," said Atha.
Installing a concrete counter top is fairly easy, but can be a long process. According to Atha, he has to wait 28 days for the moisture to evaporate from the cement before he can apply the epoxy.
Atha has also discovered a way to make the cement more rigid, but prefers to keep the secret of his new knowledge to himself.
To prevent knife marks from showing or damaging the counter top, he seals it with a knife-grade epoxy.
Another benefit to concrete counter tops is that they can be repaired easily, according to Atha. "In 20 years this may be the only thing in homes," he said.
"I really enjoyed it," said Atha of installing the counter top. "I enjoy this more than curbing."
He will be showcasing his new-found talent at the Central Washington State Fair. Atha will have a booth set up in the home and garden building for the duration of the fair, and will have examples of his work on display.
For a free concrete counter top estimate contact Dan Atha at 509-882-5807. For colors, styles and photos visit http://www.AthasEdge.com.