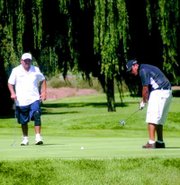 What seemed like a two-horse race took on new life down the stretch this past Sunday in the closing round of the annual Banana Belt Golf Championship at Sunnyside's Black Rock Creek Golf Course.
A relative newcomer to the links, Grandview's Robbie Goins, sprinted past the two front runners on Sunday to capture the Banana Belt title, considered by most as the top prize each year at Black Rock Creek.
The 29-year-old Goins, who found himself in a five-way tie for fourth after shooting a more than respectable 2-over-par 74 in Saturday's opening round, closed out day two action with a 3-under-par 69. The come-from-behind victory included a spectacular finish, as he picked up birdies on two of the final four holes Sunday to overtake the two first day leaders-Chris Indall and Ty Schatz.
Goins, who excelled in baseball in the prep ranks and went on to play on the diamond at the collegiate level, only took up golf about six years ago. You would never know it, however, by his swing.
"A lot of raw, athletic talent," confirmed Black Rock Creek Club Pro Jeff Bender. "He routinely hits it 300 yards off the blocks.
"Robbie's just getting started. This win should give him more confidence to take it to a different level," Bender said.
That Goins was able to rally from behind proved to be even more impressive considering whom he had to overtake. Indall and Schatz, regulars on the Tri-Cities circuit and both of whom entered the Banana Belt as 1-handicappers, set the pace Saturday with identical 1-under 71's. Sunnyside's Bob Hall, another 1-handicapper, also went into Sunday with a lead over Goins, having nailed down an even-par 72 in the opening round. The plot thickened Sunday morning, as long-time links veterans Ron Everham, David Stokes, Tom Diener and Steve Smythe began day two action tied with Goins...all having carded 74's on the opening day.
If that wasn't enough competition at the top of the leader board Sunday morning, there were another eight golfers within striking distance, all of whom shot in the 70's Saturday.
Once the final 18 holes of play got underway, though, it was a familiar name who grabbed the momentum. Schatz, a former Sunnyside High School golf standout who now resides in the Tri-Cities, opened with par-bogey-birdie to move ahead of Indall and Hall by a single stroke. Schatz, third at last year's Banana Belt, maintained his narrow grip on the lead through No. 8, but briefly handed it over to Indall when he bogeyed the 185-yard, par-3 ninth hole while Indall got down in two.
Schatz, who has a hole-in-one on Black Rock Creek's 326-yard, par-4 fifth hole on his resume, wasted little time in regaining a share of the lead. He birdied the first hole after the turn to knot things back up with Indall.
Goins, meanwhile, had quietly snuck into contention. He posted the lowest front nine score of the eight second day leaders-a 1-under 35-thanks to seven pars, two birdies and only one bogey. Tied with Schatz and only one stroke back of Indall beginning the back nine, Goins, like Schatz, birdied No. 10 to give himself a share of the three-way lead.
Goins quickly fell by the wayside, however, when he absorbed a triple-bogey on the 392-yard, par-4 11th hole. Indall and Schatz both parred the dogleg right 11th to move three strokes up on Goins.
It might have been easy to fold the tent at that point. Instead, Goins rallied in Tiger Woods-like style. He birdied four of the seven remaining holes, scoring pars on the other three.
The unbelievable battle from behind started for Goins by going birdie-par-birdie after his triple on 11. That got him back to within a single stroke of Indall and Schatz.
Indall's chances for glory blew up in his face with a snowman-eight on the par-4, 15th hole, which features a pond on the left side nearly the entire length of the fairway and routinely ruins a good round.
Schatz parred the 378-yard 15th, but Goins got his ball down in three-his fourth bird after the clubhouse turn-to move into a tie with Schatz.
Goins proceeded to follow that up with his fifth birdie on the back side, his seventh of the day. With Schatz taking a bogey on the 16th, all of a sudden Goins was up by two on Schatz.
Everham, one of the five golfers Goins was tied with after Saturday's play, was making a charge of his own, however. The Tri-Cities golfer, who opened with a 37 on the front side Sunday, knocked down an eagle on the par-5, 13th hole, then came up with birdies on 14 and 16. That four-under, four-hole stretch got Everham to within a single shot of Goins.
Everham and Goins both parred the short, par-3 17th, but Schatz birdied the hole to join Everham one back of Goins.
All three came up with pars on the straight-away, par-4 finishing hole, leaving Goins with a second day 69 and the one-shot victory.
Finishing in fourth behind the runners-up Everham and Schatz was Hall, who placed second at last year's Banana Belt. He followed up his 72 on Saturday with a 75 (39-36) on Sunday. Hall got to within two strokes of the lead down the stretch, putting together a birdie-birdie-par-par run on holes 12 through 15. But, the Sunnysider went 1-over on the final three holes to finish four out of the lead.
Indall, who played the final three holes even after his bogey-four on No. 15, settled for a fifth place tie with the Grandview golfer, Diener. An 8-handicapper, Diener shot well below his scoring average and turned in a second straight 74 on Sunday, which included four birdies. Diener ended up as this year's net champion (actual score minus handicap) with his 12-under, two-day total of 132.
Sunnyside's Phil Luther and Mabton's Randy Boast placed second and third, respectively, in the net scoring column with handicap-aided scores of 135 and 136.
Robbie Goins 74-69-143
Ron Everham 74-70-144
Ty Schatz 71-73-144
Bob Hall 72-75-147
Tom Diener 74-74-148
Chris Indall 71-77-148
Ivan Porcayo 78-71-149
Keith Crimp 76-75-151
Juan Guerrero 153
Gary Hutchins 153
David Stokes 153
Trini Madrigal 154
Terry Matthews 156
Steve Smythe 157
Phil Luther 159
Eddie Joe Risk 159
Bill Purdy 160
Mike Maloney 161
Bob Greene 162
Joel Elder 163
Greg Lenhart 166
Randy Boast 168
Lonny Sammaripa 168
Mike Boast 169
Eric Stam 169
Tom Yurovchak 169
Rick Mitoff 172
David Foster 173
Akira Nozaka 173
Ken Ott 173
Scott Andrews 174
Ron Harle 174
Rick Pedee 174
Mike Barnick 176
Mike Nelson 176
Jeramie Drollinger 177
Steward Rogers 178
Bob Hicks 179
Jim Schlenker 179
Terry Ostrander 180
Dan Clark 181
Doug Veach 181
Ken Harle 182
Dave Grow 183
Tony Bertsch 189
Scott Carlson 190
Wally Flores 190
Bob Story Jr. 190
Rod Knoepfle 191
Bob Barker 194
James Holt 195
Dean Benson 196
Kieth Miller 211